25 Mar 2013
A new smartwatch? It's Time for Google.
After Apple and Samsung announced their desire to enter the smartphone market with the iWatch and the Altius project, it seems like one of the mack daddies is trying to compete with them. According to the Financial Times, Google could be developing an Android based watch. Personally, I really like this competition for a market that is still pretty young, considering that there are only a few smartwatches available, all developed mostly by crowd sourced companies. Imagine how it will explode, when giants like Apple, Samsung and Google will launch their products. But let's focus on this article's star, the one from Google, which, some rumors say, it's going to be called 'Time'. Yeah…'Time'. Basic.
It seems that they are already making big steps in developing the watch, as the already applied for a patent. At a first sight, it describes a smartwatch with two touchscreen displays, one of them flipping, in order to reveal the second one underneath it. The top display, partly transparent, controls the information displayed on the second one and shows notifications, while the second one allows you to see the full content of the notifications. And like you're probably presuming, it also includes a camera, which will be activated when you open the top screen, in order to take photos or use it for video calls. Remembers me of my LG clamshell phone I had in the 9th grade…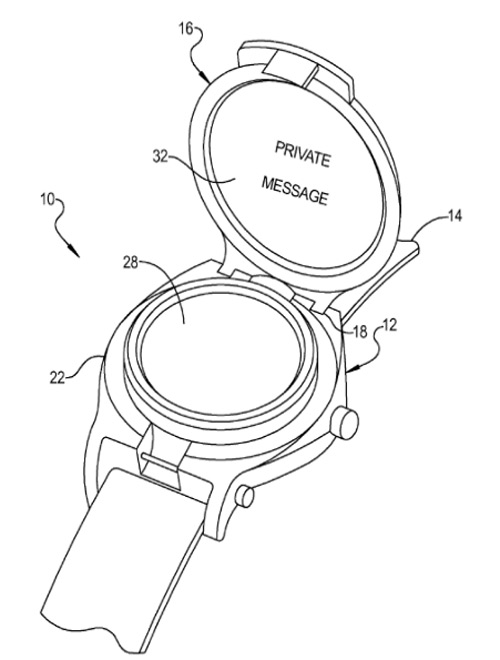 But wait, there's more! The watch will also have a GPS function, health monitoring apps, reminders, telephony, SMS, audio recording and even NFC, allowing you to pay for stuff just using your watch. Now you can see how much technology evolved, as you can use your watch as a wallet. Oh, yeah, it will also show the time.
About the design of the Google Smartwatch, I'm not so sure about this rounded screens. It just doesn't fit with the idea of a smartwatch, that's why I'm almost sure that Google will come up with a squared design, maybe with curved Gorilla Glass, alongside a rubber or silicone wristband. Stll, I'm sure that most tech enthusiasts want more than that, as this idea is already overrated, if we think at the previous iPod Nano generation.
Some sources say that this watch could give us the possibility to connect it to a tablet, laptop or even smart TVs, which is nothing but good news. After all, it's a watch with a touchscreen of about two inches and tiny buttons. Pretty hard to use it, huh? Pairing it with other devices would be pure gold.
It's pretty early though to think about what can we use Google Time for and how easy it will be to use it. One thing is sure: nobody wants a miniaturised mobile phone on their watch and Google is hardly trying to fulfill their wishes. I'm pretty sure that until the end of the year, the smartwatch market will keep getting bigger, and picking one will be as hard as picking a smartphone.
UnlockUnit.com helps you unlock your cellphone, using a safe, fast and secure method.