02 Jul 2013
A taste of Mozilla – Firefox OS hits the mobile market through the ZTE Open
See all the details about the Firefox operating system and the phones which it will power!
Remember when we were talking about the first days of MWC 2013? Through all the tech innovation presented at the show, there was also a company called Mozilla (you know it, right?) which was presenting a new mobile operating system called Firefox OS. Designed especially for low -end smartphones, it was finally introduced yesterday in…Spain. The Spanish operator Telefonica will give its clients the chance to test the Firefox OS through a very accessible phone, the ZTE Open, which will be available for about $90. Another phone sporting Mozilla's OS will be the Alcatel One Touch Fire, but not very much details are known about this device, so for the moment, let's focus on the ZTE.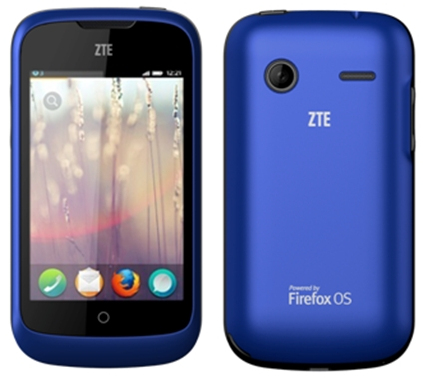 Since we're talking about a budget phone after all, the ZTE Open won't impress smartphone power users. With a 3.5″ screen, a resolution of 320 x 480 pixels and a density of about 165 pixel density, don't expect impressive image quality. Powered by a Qualcomm MSM7225A Snapdragon chipset, with a 1.0 GHz Cortex-A5 CPU, Adreno 200 GPU and 256 MB of RAM, it's more than enough for an entry-level user. The internal memory measures only 512 MB, but you can expand this, courtesy of the micro SD card slot. Oh, it also comes with a 2 GB one.
As for other specs, it comes with a 3.15 MP camera, able to take snapshots at 2048 x 1536 pixels, microUSB 2.0 and a 1200 mAh battery. Pretty small power pack if you ask me. I wonder if it can make it through a whole day.
Like I was saying, not that impressive. But that's not the idea at all. The ZTE Open is not designed to win clients. According to Yotam Benami, who's in charge of digital and open Web devices at Telfonica, this phone is mainly for new and cost-conscious smartphone buyers.
So basically, Mozilla does not target those type of customers who are focusing on screen size and processing power. No, not at all. They're targeting customers who just need a phone for talking, sending messages, using social media or, in a word, communicate. Perfect plan if you ask me.
As I was mentioning above, the phone will start rolling out for Telefonica customers, in Spain, followed by Colombia and Venezuela. And Mozilla's plans are even bigger than this, they had also set some deals with Telenor, which will launch the phone in central and eastern Europe later this year, followed by Deutsche Telekom in Poland.
I know this is just the beginning and Mozilla still has a lot of work to do if they want to reach their goal with the Firefox OS, but their initiative is more then praiseworthy and I hope that one day they will be one of the top mobile operating systems providers. After all, I was a fan of their browser for many years…
UnlockUnit.com can help you unlock your cellphone, using a safe, fast and secure method. Don't forget to check out our Facebook and Google+ pages, in order to be updated with the latest tech news.