16 Jul 2013
Clash of the top phablets – Samsung Galaxy Note 3 vs. HTC One Max
Samsung and HTC are both preparing top phablets for this year. Which one will be the best?
It's useless to say that the battle for 2013's best smartphone so far is between Samsung's Galaxy S4 and the HTC One. The sides are split so we can't decide yet which one is the winner. Of course, some people say that their favorite is the best, but this is a conclusion we can come up to only at the end of the year. And while in the 5-inch-display-battleground the war is ongoing, it seems that another battle is about to start between some phablets. Surprisingly or not, both of them will be made by the same Korean and Taiwanese companies. Ladies and gents, soon to hit the shelves, the Samsung Galaxy Note 3 and the HTC One Max.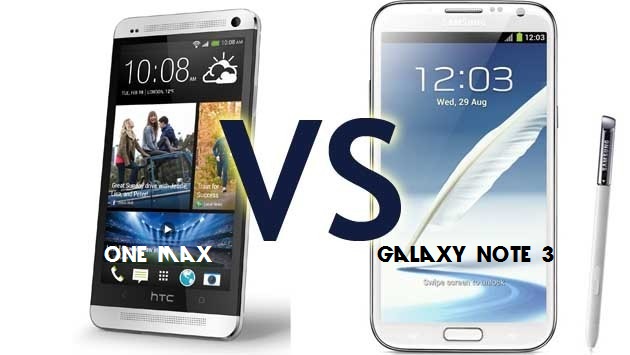 While Samsung has some experience in the phablet area, with two previous generations of Galaxy Note launched, HTC makes the first steps, as the One Max – codenamed T6 – will be most likely be a bigger version of the One. Considering how well the flagship was received, the future is finally very bright for the HTC. In Note 3's case, a totally new design is an option too, all thin, with smaller bezels and weighing less than the Note 2. Anyway, expect something following the Galaxy S4's design line.
Both devices are expected to come with 5.9″ or 6.0″ Full HD displays and a resolution of 1080 x 1920. Honestly, something less would be a big disappointment, as we're talking about very big screens which require full HD resolutions in order to get the best out of them. Of course, we might have some individual technologies used in order to get better images, but these are details which are unknown for the moment.
Popping the hoods, we will probably find similar internals: 2 GHz quad-core CPUs, 2 GB of RAM and an internal storage of at least 16 GB and a microSD card slot, capable of hosting up to 64 more GB of space. As for the cameras, for the Note 3, a 13 MP sensor is expected. Meanwhile, we're hoping for the UltraPixel technology on the One Max. And you better make this happen, HTC!
Because such big screens and processing power require some serious battery, the two phablets are both expected to pack some serious batteries. The HTC One Max is expected to come with a 3300 mAh battery pack, which is the biggest used on a HTC until now, while the Galaxy Note 3, according to some rumors, will have – get ready – a 4000 mAh one. Well, I guess making it over two days won't be a problem for these two devices.
The operating system will be Android 4.3, which is expected to start rolling out soon for all important smartphones and not only. Stock Android is just a dream in this cases, as we will have customized versions, with TouchWiz and Sense.
Both phones are scheduled for this fall, September to be more specific, if we give credit to some sources. We don't know if Samsung and HTC are planning individual events or they're planning to launch other devices too. One this is sure: the phablet market will be the battlefield for two sensational devices!
UnlockUnit.com can help you unlock your cellphone, using a safe, fast and secure method. Make sure to follow our Facebook and Google+ pages, in order to be updated with the latest tech news.