05 Dec 2013
From Russia, with love – The dual-screened YotaPhone
No, you're not seeing double. I mean, you are, in some way or another. 
The Consumer Electronics Show (CES) is not just an event where some of the most important manufacturers show their latest gadgets, devices and innovations. No way, it's more than that. I've been following the event for the last years and there was always something that really impressed me, coming from a relatively unknown brand.
In 2013, it happened again, and this time, the device that really caught my attention was coming from Russia and it was called YotaPhone. What was so special about it? Well, nothing much, except the fact that it had two screens. Caught your attention? Wait 'til you see the rest. After almost a year, the YotaPhone is finally on sale in a few European countries, like Russia (d'ooh), France, Spain, Austria or Germany. As far as I know, Russian products were pretty appreciated in Europe in the 80's, so why not give this dual-screened smartphone a chance too?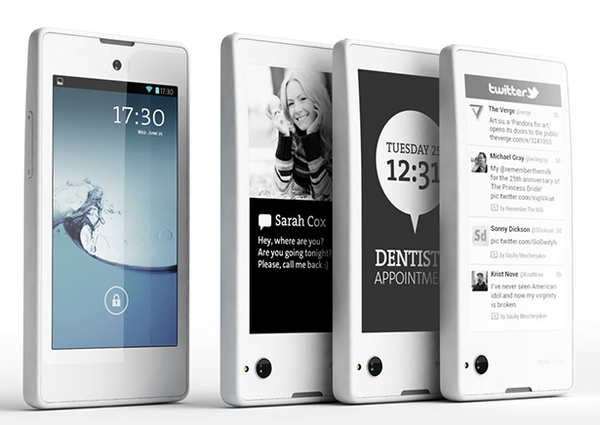 At a first sight, it doesn't look that special. It has an all glass front panel, with no physical buttons, except a volume rocker on the side. Over all, it looks pretty simple and slim, weighing only 146g. Turn it around and you'll get a glimpse at the second screen. It's an e-ink, Kindle-like display, measuring 4.3 inches, like the main screen, but with a resolution of 360×640. Its main purpose is to be a hub for all your important information, while using just a few bits of power. So, if you're running low on battery, you can use the second screen to display a map for example,  an important document, notifications or anything else important. All these without having to use that battery draining LCD screen (720 x 1280, 342 pixels per inch). Wondering how the e-ink screen works? Take a look at this video, with a prototype of the YotaPhone:
http://www.youtube.com/watch?v=ohyXDO1s7Ks
In terms of specs, the YotaPhone is powered by a dual-core CPU, running at 1.7 GHz and 2 GB of RAM. The internal storage counts 32 GB and you'll have to be happy with this, since there's no sign of a microSD card slot. It doesn't lack in the camera department, rocking a 13 MP sensor on the rear, positioned just below the e-ink display. Well, that's an unusual position for a camera, but as long as it does the job, I don't see anything against it. There's also a 1 MP front facing camera, for those moments when you feel pretty and a selfie is your best idea of the moment.
The operating system is a customized version of Android 4.2.2 Jelly Bean, using a BlackBerry style gesture system, in order to replace the use of hard and soft buttons. Still, these gestures aren't performed on the screen, as there's a space under the screen, designed especially for this.
Last but not least, the battery counts 1800 mAh, which might not seem enough for a phone with two screens. Anyway, Yota claims that it can last up to 10 times more than its competitors, at least while using the reading mode on the e-ink display. Can't wait to see some tests with this phone.
So, if you are impressed by the YotaPhone and living in Europe, you can get it for Christmas, for a price of about 500 euros ($680). If you ask me, it's a bit much, considering the specs, but don't forget about the second e-ink display. In this case, the price tag is justified. C'mon, give Russia a chance!
UnlockUnit.com provides safe, fast and secure cellphone unlocking solutions! If you enjoyed this article, you can follow our Facebook and Google+ pages, in order to be the first one to find out about the latest articles, tech news and many more.