15 Feb 2013
Luxury in the palm of your hand – Vertu Ti review
When I was in high school, a friend of mine got a Nokia 8800 Arte for about $1000. I must admit, it was a good looking phone, but paying that much for a handset that was less capable than my $60 Nokia I had as a 2nd phone was absolutely ridiculous. Same with the new Vertu Ti. Previously owned by Nokia, the luxury smartphone maker released its first Android device these days. Even though the looks might impress you, you must ask yourself: Why so much money for a smartphone which isn't that smart? Let's find out.
With a starting price of around $10600, the Vertu Ti is an eye catcher mostly thanks to its looks. A polished titanium case, with exposed screws in various places and the leather accents give the phone a special vibe. Of course, all that shiny metal covering some areas of the phone is a real magnet for fingerprints, so you'll have to get used with this aspect. The glass protecting the 3.7″ screen on the Ti is apparently the largest sapphire crystal screen ever made, said to be four times stronger than any other available on the market.
On the top of the phone we have the power/lock key, which might seem a bit tricky to hit at the first uses. Next, on the right side, we can find the volume keys, way easier to manipulate, alongside the headphone jack. The left side holds the microUSB port and a pretty special button for the dedicated Vertu area. What's so special about this button? Well, it gives you access to Life, Concierge and Certainty services. The last service explains a bit the cost of this phone. Through it, you can contact the firm's exclusive assistance via 24/7 voice, email and live chat. And you will definitely get an answer, as a dedicated team is there for your problems.
The back of the Ti is predominantly leather, with a metal square, housing the 8MP camera and the LED flash. Now, here's an interesting thing, or, better, said, a nice marketing strategy. Unclasp the metal piece below the camera and the LED and you can see a testament to the fact that each phone is handmade in England. On the back of the piece, you can see the signature of the person who put your phone together. But enough about its exclusive looks, let's see how this phone can perform.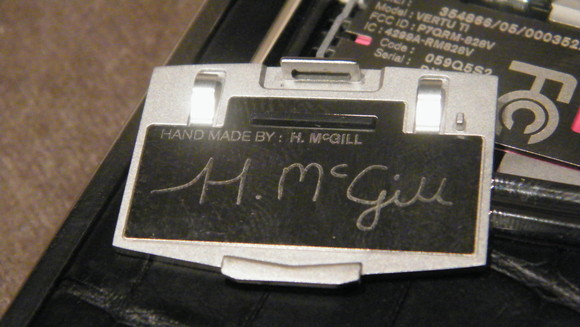 The 3.7 inches screen isn't the biggest and not as stunning as the Retina or Super AMOLED ones we have on Apple or Samsung. It has a resolution of only 480 x 800 and a density of 252 pixels per inch, but it provides some bright and crisp images. It's loaded with a 1.7 GHz dual-core CPU, 1 GB of RAM and 64 GB of internal storage, but for the money you're paying, you'd expect the Ti to be challenging phones like Samsung Galaxy S3 or HTC One X+, but Vertu puts more price on the looks.
I was a bit disappointed when I heard that this phone is running on Android v4.0.4 Ice Cream Sandwich. I mean, for all that money, they could've least hooked it up with Jelly Bean. Still, the dual-core has no trouble running through the OS, so if you're going to break the bank or sell some organs to get this phone, don't worry, it doesn't show hints of slowing down.
The 8 MP camera wasn't impressive, with no so great and blurred shots and some overall grainy and noisy images. It can also shoot 1080p videos, with a panorama mode available, which is pretty decent, compared to the photos.
The 1250 mAh battery is not as big as we were expecting, but for a 3,7 inch phone, also called Vertu, is more than enough. I don't think that people will get a phone like this and use them in a hardcore mode.
Finally, we will say it again: this phone isn't for everyone. If you want a phone only to make a statement and attract looks and hear people whispering "Just look at that show-off over there", yeah, you can get it. If you want something normal, way powerful and with a lot of features, there are a lot of models available, for about, with about 95% cheaper. Just think about it.
UnlockUnit.com provides safe, fast and secure phone unlocking solutions.