06 Feb 2013
New OS, same QWERTY – BlackBerry Q10
Last week we were talking about the transformation of RIM into BlackBerry and how their latest flagship device, the Z10, is planning to hit the market. A lot of fuzz has been generated around this model, not only because it was seen as the company's savior, but also because it was loaded with the new BlackBerry 10 operating system. Still, the Z10 wasn't the only model launched last week by the Canadian company. The Q10 is the second handset running the new operating system and the first to offer a physical QWERTY keyboard alongside it. Even thought the company focuses on the Z10 now and the Q10 will hit the market only in April,   it still has an excellent chance of being a hit, as BlackBerry is famous for providing top quality QWERTY keyboard phones.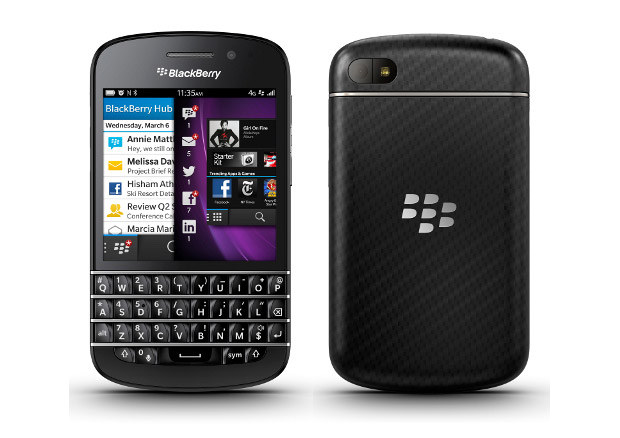 At a first glance, we can clearly see that this is the biggest screen that BlackBerry used on a phone like this. We don't know the exact size yet, but it's expected to clock in at around 3.1″, with a resolution of 720 x 720 pixels and a pixel density of 328 ppi.
Below the screen, we don't have menu keys and a trackpad anymore, since BB10 is fully controlled via the touchscreen, using the keyboard only for messages. Good move, bad move…we don't know yet, but scrolling down or up long lists is now way easier.
Continuing with the design, the back cover of the phone is made of a sturdy carbon fiber looking material that BlackBerry is calling "glass weave". We have a 8 MP camera, able to shoot photos at a resolution of 3264 x 2488 pixels, and a single LED flash on the back, while on the front we have a secondary camera, which really comes in handy for video calls, using BBM video.
On right sides we have a triple button combo, with a volume rocker separated by a central play/pause key. The left side holds the microUSB and mini HDMI ports. The top of the phone brings a power/lock key, alongside a 3.5 mm headphone jack.
Under the hood of the new Q10 we can find a TI OMAP 4470 chipset, with a 1.5 GHz Dual core Cortex-A9 CPU, a PowerVR SGX544 GPU and 2 GB of RAM. The internal storage counts 16 GB, which can be expanded with up to 64 GB, using a micro SD card. Also, we should definitely mention some of the most important features, like Wi-Fi, Bluetooth and NFC.
The 1800 mAh Li-Ion battery guarantees up to 10 hours of talk time. No tests were made in order to see how the BlackBerry Q10 handles some endurance using, but I'm optimistic about this aspect.
As you can see in this review, this phone is a model that should really be taken into consideration, but something tells me that it will be overlooked by many, as full touchscreen models are now the thing to have. But for those who just can't live without a full physical keyboard, the Q10 is a blessing. And BlackBerry surely knows how to target this market. Let's hope that this phone, alongside the Z10, are the solutions BlackBerry is looking for.
UnlockUnit.com helps you unlock your phone, using a safe, fast and secure method.