25 Jun 2013
Operating system combo – Samsung Ativ Q
Samsung puts both Android and Windows 8 in a hybrid tablet
Hybrids aren't something new in the tech world. Remember the Asus Padfone Infinity? It was a phone using a tablet as a docking station, introduced during this year's Mobile World Congress and a lot of fuzz has been created around it. Well, it seems that these weird combinations are gaining territory and the Samsung Ativ Q is one perfect example.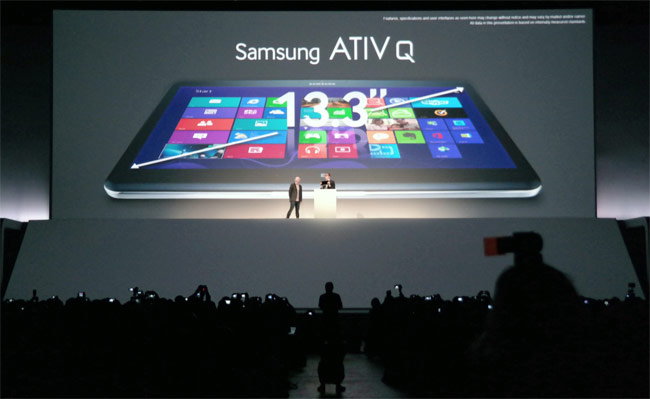 And it's not just a hybrid in terms of design, as we can say the same thing about the software. Samsung stuffed this tablet with Windows 8 and Android 4.2.2, enabling you to operate both of them from the same Intel Haswell chip, which has enough processing power to run on each one of them smoothly. I guess this is a first when it comes to tablets, isn't it?
If you thought this is the only impressive feature about the Ativ Q you were very wrong. What if I told you that it also comes with a 13.3″ screen and a superbly high resolution of 3200 x 1800 pixels and 275 pixels per inch density? Not so sure if we can still call it a tablet if you ask me. Considering that it also has a physical keyboard, we can say that it isn't far from being a laptop.
In order to detail a bit this hybrid feature, let's start with the four screen looking modes. You can use it in tablet mode, with a quick push from the bottom settling it nicely above the keyboard. If you don't like this, you can tilt the screen upwards to activate the 'floating' mode. Still don't like it? Keep pushing the screen and the display will filp, allowing you to use the keyboard as a stand. A bit confused? Check out this video from TechRadar to see what we were talking about:
As mentioned in the beginning of the article, the specs are more than decent, as the Intel Haswell chip is dealing with things. The Intel Core i5 CPU, 4 GB of RAM and the Intel HD Graphics 4400 chip, for those moments when some gaming is needed, make this lap..tabl..uhm, device a perfect companion, no matter what apps you're running on it. Storage is not a problem, as the 128 GB SSD solves any issue of this type. Of course, if that's not enough, there's also a micro SD card slot. Also, you can plug in USB 3.0 devices, use the HDMI output, as well as take some snapshots, using the 720p HD webcam.
The keyboard works pretty well, even though it's a bit weird at the first use, so you'll have to get used to it in order to avoid typing mistakes. There's also an S Pen included in the pack, which works wonderfully, especially with all the native apps.
Finally, the battery is granted for about 9 hours, which is impressive, considering the size and the specs. It seems that Samsung has done a great job with the battery and we can only hope that they will also improve the ones on their future smartphones.
Personally, I'm delighted with the Samsung Ativ Q. I'm not the biggest Windows 8 fan, but having it presented in this way, with the possibility of switching to Android if I want, makes me introduce this hybrid on my favorite tablets list.
UnlockUnit.com can help you unlock your phone, using a safe, fast and secure method. If you like to be updated with the latest tech news, make sure to follow our Facebook and Google+ pages.