21 Aug 2013
Samsung Galaxy Gear – It's a bird…it's a smartphone… No, it's a wristwatch!
Yes, Samsung's first smartwatch is finally here!
Remember when we first started talking about smartwatches? Yeah, it seems like it was ages ago when we were wondering about who will be the first of the big brands releasing a first serious wristwatch which can do more than just show the time. And while everybody was thinking that the iWatch will create a new fab, it seems that Samsung is again with one step ahead the competition, as their smartwatch, the Galaxy Gear, is expected to be officially introduced in September, alongside some other new Samsung devices. But let's talk a bit more about this little piece of tech, which will surround some tech enthusiasts' wrists soon.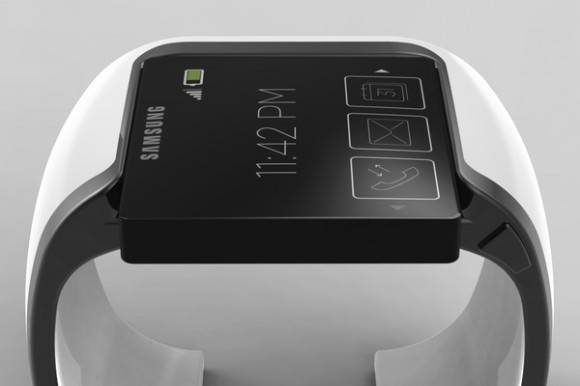 If initially everybody was thinking that the Galaxy Gear will technically be a smartphone that can be worn as a watch (according to some Bloomberg reports), it seems that it won't be a phone at all. But, even though it lacks its own SIM and cellular radio, it can be paired with a smartphone, so, in some way or another, you will be able to make calls. Well, I don't know about you guys, but I'm really waiting to see the Gear in work, as I'm really curious how you will be able to answer those calls. I mean, I don't think you'll have to put your watch near your ear, right? Otherwise, the idea sounds really good. After all, it this would've been a stand alone smartphone, charging it every few hours wouldn't come in handy.
As for the hardware and software parts, we've seen some prototypes of the Galaxy Gear, so we'll presume that Samsung is going to stick to them when they're going to release the smartwatch. Ready for this? Some of the most important Samsung News sites, including SamMobile, suggest that it will run an impressive Samsung Exynos 4212 dualcore 1.5 GHz processor. Yep, a dual-core CPU on a watch. If somebody would've told me this a few years ago…better not talk about this now.
And like this more than faster chip was not enough, it will be paired with a Mali-400 MP4 GPU, to show some really nice graphics on the 1.1″ OLED display, with a resolution of 320 x 320 pixels. Speaking about the screen, it seems that it won't use Samsung's flexible screen technology, as everybody was hoping/thinking. But still, they will definitely make a 2.0 of this watch, so maybe…maybe…
Believe it or not, it will also have a 2 MP camera. I don't where it will be positioned – maybe somewhere in the strap – but imagine the possibilities! I see a lot of stalker pics coming! As for some other features, check NFC and an accelerometer. Well, they convinced me. I'd buy this thing!
Like mentioned above, Samsung is planning to reveal the Galaxy Gear in September, at its pre-IFA Berlin event, on September 4, when we could also see their new phablet, the Galaxy Note 3. Counting down the days…
UnlockUnit.com provides safe, fast and secure cellphone unlocking solutions. For the latest tech news, you can check out our Facebook and Google+ pages!