05 May 2014
The first leaked shot is here – Check out the HTC One Mini 2!
I shall call him Mini Me! I mean, Mini 2!
For a couple a years now, all the big players on the smartphone market won't let a flagship stay too much on the shelves without releasing a mini version of it too. Just take a look at brands like Samsung, HTC, LG or Sony… All of them released a couple of extraodrinary smartphones, while the mini versions, even though they weren't rocking top notch specs (except the Xperia Z1 Compact), sold incredibly well and motivated the manufacturers to consider releasing a new generation.
This year, we've seen three flagships – Samsung Galaxy S5, HTC One M8 and the Sony Xperia Z2 – while LG's G3 is still waiting for a few weeks until it hits the market. Still, it seems that HTC is going to be the first one to release the mini version.
Called One Mini 2, the phone is going to look almost the same as its bigger brother, except one details: the Duo Camera and the LED flash, which won't be present. HTC has released a press render of the phone and shortly after, the already famous tipster @evleaks told us it will be available in three different colors: gunmetal, silver and gold. Take a look at it: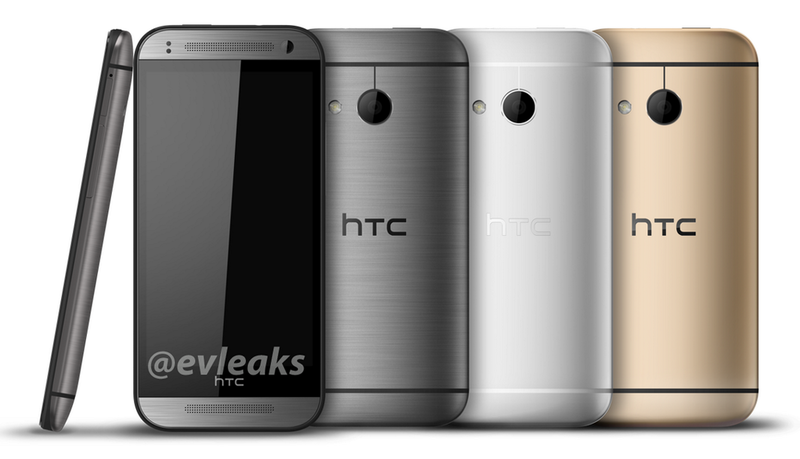 Looking for the best HTC of the moment? It's called One M8 and you shouldn't miss it!
As you can see, the metal is also present! And this time, it's even more than on the previous generation. It doesn't reach all the way to the front like on the big One M8, as there's still a plastic rim surrounding the screen and the top, but for a mid-range device, it definitely looks awesome!
HTC hasn't given any details about the specs, but according to GSMarena, it's going to pack some more than decent internals: a quad-core 1.4 GHz CPU, 1 GB of RAM and 16 GB of internal storage. The screen is going to measure 4.5 inches, with a resolution of 720 x 1280 pixels, while the Android 4.4 KitKat, customized with Sense 6 will take care of making everything run smoothly.
Nothing about the release date or the price of the HTC One Mini 2 until now, but it shouldn't be long until the Taiwanese company will announce the phone. Stay tuned on our blog as we'll definitely cover the subject as soon as it will be launched!
UnlockUnit.com provides safe, fast and secure cellphone unlocking solutions! If you enjoyed this article, you can follow our Facebook and Google+ pages, in order to be the first one to find out about the latest articles, tech news and many more.