18 Jul 2013
The flip phone returns – Samsung Galaxy Folder
Is Samsung trying to bring back the clamshell design?
Remember those times when having a clamshell phone was the ultimate fab? Yeah, I was really envious on a friend of mine that had a Motorola StarTAC when I was just a kid. Let's face it, of all the smartphone form factors, the flip-phone was something more than innovative and nowadays, these models are pretty rare, if not completely gone from a market focused on this and compact designs. If you're one of the nostalgics, missing the good ol' days and think that a hinged, folding design isn't a waste of space, we have some good news for you: Samsung may bring back to life the flip factor, with an Android device encased in a vertical clamshell design. So expect a touch-enabled screen at the top and a numeric key-pad on the bottom. Name? Samsung Galaxy Folder. Or at least that's what all sources indicate.
According to some Korean publications, the Galaxy Folder will be aimed to the entry-level market, but considering that are still a lot of people who were in love with the clamshell design, don't be surprised if they're going to buy it as a back-up phone or even to replace their current smartphone.
Last year, Samsung released a similar device for the Chinese market, which you can see in the picture above, and had Jackie Chan to help them promote it. This might be a clue for what the upcoming Galaxy Folder is going to look like.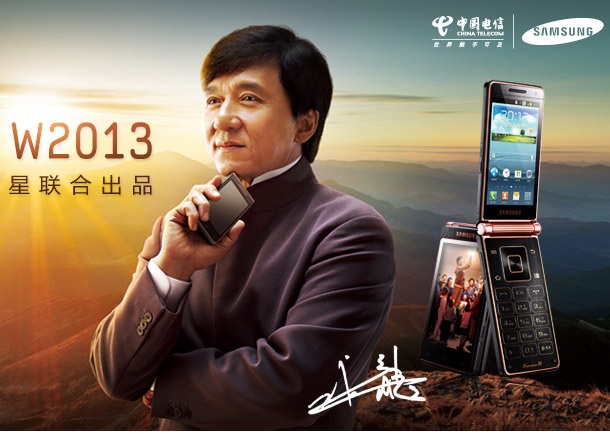 In terms of specs, we expect a dual-core Snapdragon S4 CPU, 1 GB of RAM and most likely, 8 GB of internal storage, with the possibility of expanding it, courtesy of the microSD card slot. The phone will also support LTE and it will come with a custom version of Samsung's UI, TouchWiz, designed for flipping. Speaking of custom UIs, the Samsung Galaxy Folder will come with Android 4.2.2 Jelly Bean, but we don't know if it's going to be upgradable or not.
Nothing has been mentioned about the screen size, but look for it to have a WVGA resolution, of 480 x 800 pixels. If I'm allowed to make a prediction, I'd say that the screen will have about 3.5″ or even less. Think about the iPhone 4S, which has 3.5″. Now imagine a clamshell phone with such a big screen. Yeah, I know, it would be pretty hard to hold it while talking.
But, if this is going to happen and Samsung will install a pretty big display on the Galaxy Folder, I think the perfect solution would be a rotating display, just like the one on the Nokia N93 had. I mean, if you want to take a landscape Am I asking for too much? I don't think so, as nothing from what I've mentioned is impossible to realize. Especially for a manufacturer like Samsung. Of course, a rotating screen would be pretty useless if the phone is going to have dual screens, just like the above mentioned model for the Chinese market.
For the moment, we know that the Folder will be available for the South Korean market, without any indications about the device coming to the Western Audiences too. Anyway, it is still questionable if a entry-level flip phone would sell at least decently nowadays, in Korea or even abroad. But this is a conclusion we can form only after the official launch, which, by the way, isn't mentioned anywhere, so for the moment, the 'rumors' category is perfect for the Samsung Galaxy Folder.
UnlockUnit.com provides safe, fast and secure cellphone unlocking solutions. Make sure you follow our Facebook and Google+ pages, in order to be updated with the latest tech news and many more!