14 Jun 2013
The Real Slim Shady – MacBook Air 2013
The "ultimate everyday laptop" gets even better!
From the beginning, I want to tell you that this article it's not at all about Emimen. Ok, maybe just this first line. But enough with the rappers and let's switch to one of my favorite devices ever: the MacBook Air. Good looking, compact, with awesome specs and a more than long battery life. Even though it was less than a year since the latest model was announced, Apple decided that it was time for a new one, so this week, at WWDC 2013, alongside iOS 7 and the new Mac Pro, the 2013 MacBook Air was announced.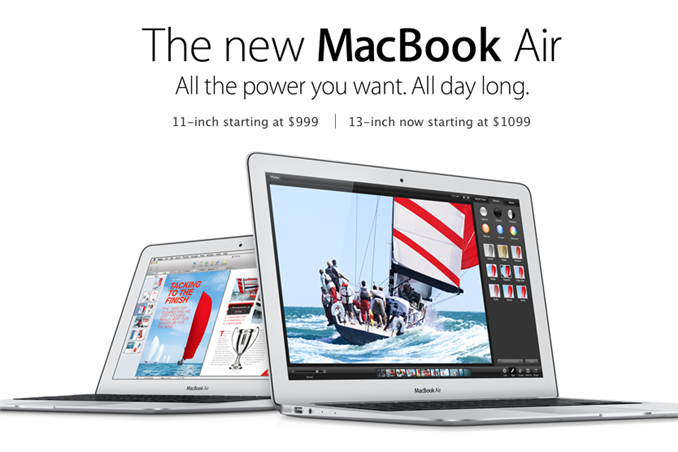 In terms of design, nothing much has changed. The same slim and light design, paired with the metallic finish we go used to. Honestly, I was expecting some changes though. At least that bezel could've been thinner, in order to make this puppy look even better, especially the 11″ model. But I don't mind, I still like it.
Now for the cool part, the specs. Like everyone was expecting the new MacBook Air has some serious improvements. It's based on Intel's latest generations of Haswell Core processors – i5 and i7 to be more specific. Add 4 GB of RAM to this and improved graphics, thanks to the Intel HD 5000 GPU (used by the Haswell chips) and you get a blazing fast machine, with a 40% improvement in the quality of the displayed graphics, compared to the previous generation.
Speaking about graphics, the resolutions are 1336 x 769 for the 11″ model and 1440 x 900 for the 13″ one. I don't know about you guys, but I think this could've been improved too. Full HD resolution, Apple? I know you can do it. We're talking about the MacBook Air after all.
The storage was also updated. To be more specific, it has doubled. 256 GB, instead of 128 GB on both 11″ and 13″ models. Of course, if a MacBook Air is not expensive enough for you, you can splash some cash on 512 GB of flash memory and storage won't be a problem for you.
And because it keeps getting better and better, we have the 820.11ac Wi-Fi, which is a premiere!  FaceTime HD 720p camera, a Thunderbolt port, two USB 3.0 ports and video mirroring complete the picture and make this MacBook a perfect companion.
Remember those times when Nokia phones where real endurance masters, with batteries lasting even for a week? Well, you can compare the 2013 MacBook Air with them. No, the battery won't last a week, but this ultrabook is the Nokia of laptops in terms of battery: 12 hours of video playback for the 13″ and 8 hours for the 11″ version. Considering that you won't use it only for videos, we can easily say that this MacBook can last for a whole working day without a problem.
Everything seems almost perfect until now, but in this case, perfection has a price. $1099 is not the lowest price for a 13″ ultrabook, and not even $999 for the 11″ one, but hey, you're buying Apple, a premium brand after all, so we can't say that this is justified. If it makes you feel any better, the price actually dropped, compared with the 2012 model.
So there you have it, a general overview of Apple's last generation of MacBook Air ultrabooks. Stylish? Damn right. Powerful? Yep. Expensive? Pretty much, but it already has its market, so I'm 100% sure that it will sell very well. Can I get one for free though?
UnlockUnit.com can help you unlock your cellphone, using a safe, fast and secure method. Also, we keep you up to date with the latest tech news, so make sure you follow our Facebook and Google+ pages.