31 Jan 2013
The savior is here – Introducing the BlackBerry Z10
While most tech fans and not only are focusing on new smartphones coming from brands like Samsung, Apple, Nokia or LG, another brand is going through serious problems and their only solution seems to be a new flagship device. We're talking about BlackBerry, formerly known as RIM, who introduced yesterday their latest model, the Z10. If the brands mentioned above are launching flagship device in order to present their latest technological innovations, hoping that the sales will go wild, BlackBerry's case is a bit different. As it's no secret that in the past year the company has been on the rocks, all their hopes are now into this new smartphone. Let's see what this new fella can do.
At a first look, the BlackBerry Z10 resembles a bit with the iPhone. All black, with no trims or any details, giving the phone a safe and refined look. It has a 4.2″ capacitive touchscreen, with 16 million colors, a resolution of 768 x 1280 pixels and a pixel density of 355 pixels per inch. Going with the exterior design, we don't have a home button, but we do have a sleep/power button in the center top, next to a headphone jack and a mute button in the center of the volume rocker, on the right side. On the left side, we have the Micro HDMI and the Mirco USB ports. Under the back case, we have the microSD slot, which can be used to boost the internal memory with up to 32 GB of space.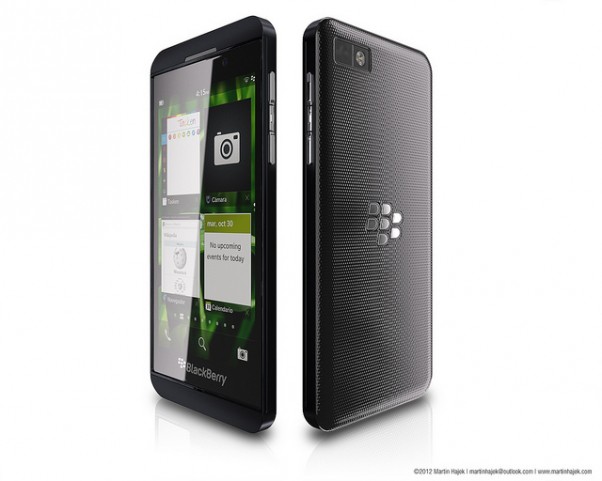 Under the hood, you'll find some pretty cool stuff, like a Qualcomm MSM8960 Snapdragon chipset, with a dual-core Krait CPU, clocked at 1.5 GHz, a Adreno 225 GPU and 2 GB of RAM, alongside the 16 GB of internal storage. We also have some other goodies, like Wi-Fi, GPS, Bluetooth 4.0, NFS, accelerometer and so on. Everything cool until now.
Still, this coolness goes away when the battery comes in. Pretty disappointing. The device can't make it through an entire day without a recharge. And we're talking about a pretty regular usage. But hey, everyone knows that LTE devices aren't famous for their modest power needs, and BlackBerry Z10 also joins this club. Could've been worse.
The Z10 comes with two camera, the main 8 MP shooter on the back, able to record 1080p videos and take photos at a 3264 x 2448 resolution, and the secondary 2 MP camera, which can do 720p video capture. Both of them are really good, producing decent quality photos.
With this new handset, BlackBerry also introduced their new version of the OS, 10, built around a handful of basic concepts and gestures, which are waiting to be discovered. Don't worry, once you get the hang of what the phone is going to do, you'll start to love it. Even though it's still room for improvement, the new operating system is craving out a unique experience, very different from others.
To sum up, we can't deny that the Z10 is a good smartphone, even better than most people were expecting. Of course, it has some flaws, and don't forget that it's trying to compete on a market dominated by handsets like iPhone 5 and Samsung Galaxy S3, which is pretty hard. Anyway, if you're a fan of BlackBerry or you just want to try a different smartphone experience, this phone could be what you're looking for.
UnlockUnit.com provides safe, fast and secure phone unlocking methods.