14 Mar 2013
Top 5 Android Easter Eggs
And no, we're not talking about Easter rabbits and stuff like this. In this case, an Easter egg is an intentional hidden message or features which we can find after spending some time with mobile operating systems. According to Wikipedia, they're secret responses that occur in response to an undocumented set of commands, with the results varying from a simple message or image, to a page of programmer credits or a small videogame hidden inside an otherwise serious piece of software. So you got the idea. Now let's start with some Android Easter eggs…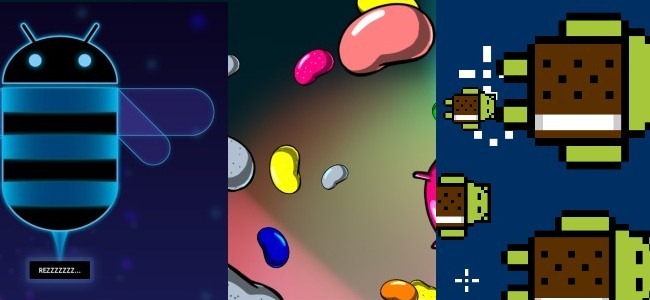 Of course, we'll begin with most known one. Starting with Gingerbread and continuing with Honeycomb, Ice Cream Sandwich and Jelly Bean, Android has a pretty cool hidden animation within the "About phone" page. All you have to do is head to Settings – About phone and tap a few times on "Android version" until you see a picture. Here are some examples of the ones found on Gingerbread and Ice Cream Sandwich:
On Android 4.2 Jelly Bean, these Easter eggs are a bit more evolved. As you probably know, 4.2 comes with five stock screen savers, called day dreams, which can show up when your phone or tablet is docked or charging. Doing the same "About phone – Android version and tapping" moves will reveal the picture of a smiling jelly bean. Holding down on that for a few seconds will take you to a screen filled with even more beans, unlocking the BeanFlinger screensaver, which can now be found under Settings – Display – Daydreams.
And if you were thinking that Jelly Bean has this extra-extra feature, you should know that Ice Cream Sandwich had it too. Like we mentioned before, rapidly tapping on Android version will reveal a pop-tart robot, with an ice cream sandwich body. But wait, there's more. Holding on the robot will reveal a Nyan Cat-like animation. It seems that we have some meme fans at Google…
Besides the funny features, Google has also hidden some developer settings in the latest version of Jelly Bean. Curious to see what they're all about? Well, here are a few steps for you to follow in order to get them back: go to the settings menu, scroll down to "About phone", tap it, scroll down again until you see "Build number" and tap it 7 times. After the third one, you'll see a message that says you're four taps away from being a developer. Four more and you got your developer settings back. Pretty cool, huh?
One last Easter egg comes from Ice Cream Sandwich and it's called Rocket Launcher. Basically, it shows all your apps going through space, allowing you to tap them in order to launch them. It's a pretty complex process, but the effect is awesome, so I'll let you with this video in order to see how it works:
As you can see, there are a lot of tricks and glitches for Android phones and I'm very sure that these are not the only ones. Maybe you guys can help us with more and we'll come with part II of this article.
UnlockUnit.com helps you unlock your phone, using a safe, fast and secure method.