07 Feb 2013
When beauty blends with power – Microsoft Surface Pro
Some time ago we were talking about Windows 8 going portable, and doing it very good. One of the devices that caught our attention was the Microsoft Surface Pro, a touch-friendly tablet, with a keyboard and all the Windows apps anybody wants. After a preview at CES 2013, now it's time to make a deeper review of this sensational new product and see if Microsoft succeeds to live up users' expectations.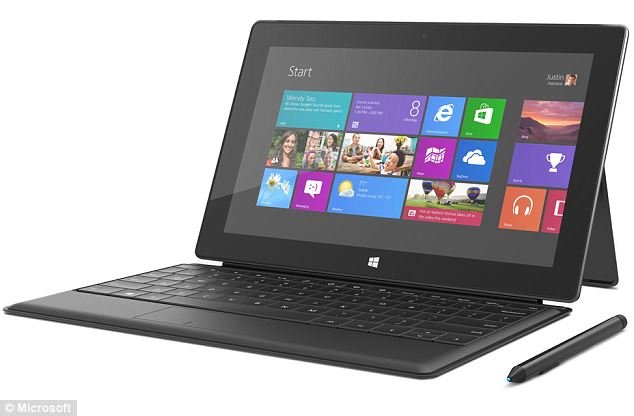 The refined design, with simple lines and clean edges, make this tables a very handsome one, in a business-casual sort of way, mostly thanks to the VaporMg material, feeling thin, but sturdy. Compared to the Surface ST, the PRO has a slight gap in the siding, running around all four of its edges. Don't worry about this, it's only the peripheral venting system using that little space to push the air out, instead of relying on a couple of vents. Until now, everything looks great.
The display blends very nice into the bezel, giving the impression that it's just a screen. Oh, and it's pretty big, passing the 10″ with 0.6″ and having a resolution of 1920 x 1080, so calling this device a tablet is a bit weird. On the left side of the tablet we have a full USB port, the volume rocker, a headphone jack, while on the right we have the DisplayPort jacks, the microSD card reader and the power cord, which looks a bit familiar. Apple deja-vu anyone?  The upper edge rests the power button, and the bottom one has the magnetic dock connector, used for connecting the Type Cover and Touch Cover.
When it comes to power, the Surface Pro is one of the big players. It is equipped like a laptop, with 1.7 GHz Intel Core i5-3317u CPU, Intel HD Graphics 4000, 4 GB of RAM and either 64 GB or 128 GB of internal storage. It also has Bluetooth, Wi-Fi, light sensor, accelerarator and all sorts of other goodies.  It also packs two cameras, both capable of recording 720p video. Imagine taking pictures at a concert with a 11″ slab of metal… On the other hand, the front-facing camera it's just perfect for video chat.
Another smart move made by Microsoft is equipping this device with a Wacom-made stylus, which is just fantastic for drawing apps, like Photoshop or anything else that requires a precise touch. It's not something you'll use all the time, but it's a great addition.
Last but not least, we're talking about the software. It runs on Windows 8 and being powered by an Intel processor, it has no difficulty in running legacy Windows apps or any other apps. A major improvement, compared to the Surface RT, which took a bit long to load anything and stumble its way through some apps. The Pro runs smoothly.
Even though it's somewhere between tablet and laptop, the Surface Pro is one great device. Again, Microsoft did a very good job. It's as fast as a top ultrabook, with no confusing app incompatibilities and no weird performance issues. Still, most users will find it a bit weird. It's pretty hard to use it on your lap, with a keyboard and the kickstand and it's unusable in a common position, like sitting on a couch. Nevertheless, it offers a great overall experience and if you're in search for a tablet..uhm no…for a new device from its category, I think, the Microsoft Surface Pro is a option you should definitely consider.
UnlockUnit.com provides safe, fast and secure cellphone unlocking methods.