07 Mar 2013
When tech and fashion meet – Google Chromebook Pixel
If some time ago we were talking about HP joining the Google Chromebook family, with a more than accessible $249 laptop and I still wasn't very convinced that this was a very good idea, it's time for Google to come with something which is just…'wow'. And I'm talking about design, specs and price. Don't get too enthusiastic, because the 'wow' for the price is more like a 'how much?!' combined with a terrified look. But we'll get to that later.
The Chromebook Pixel is definitely one of the best looking laptops I've ever seen. It has a smooth aluminum body, which gives it a very refined look, reminding of the MacBook Air, with slightly rounded edges. One of the elements which really got my attention is the Pixel's lightbar, which is there only because it looks good. A blue light stripe on the cover, briefly glowing the rainbow of Google colors, just to remember you again, if necessary, that Google made this machine. Oh and did I mention that the word 'Google' never appears anywhere on the Pixel?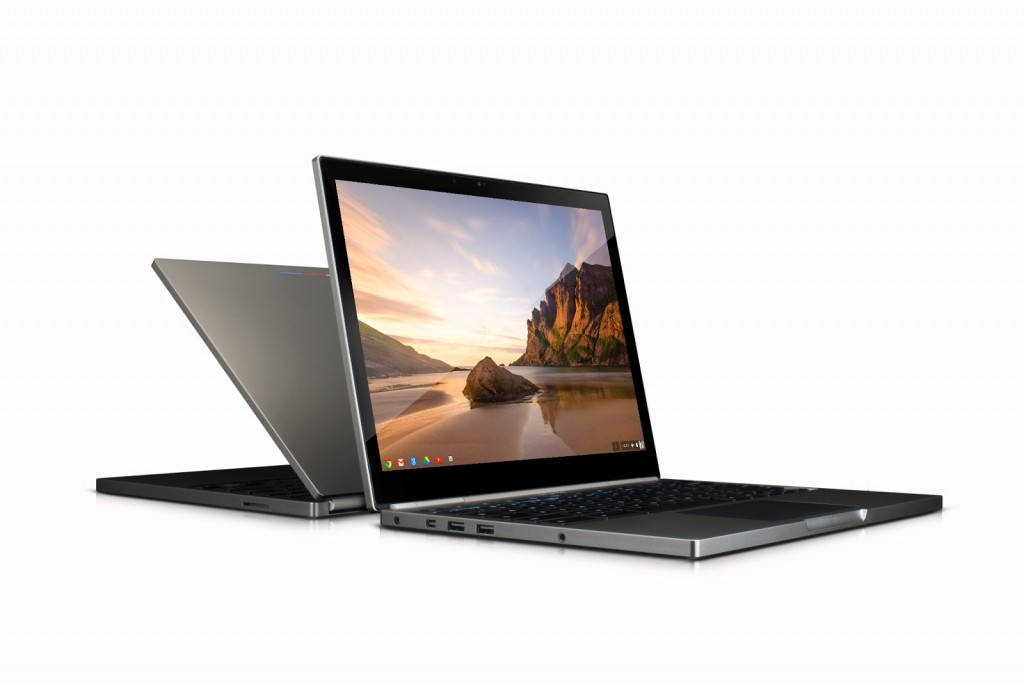 Going on with the design and exterior elements, we have an SD card reader on the right side, alongside the SIM card slot. On the left, there are two USB 2.0 (boo-hoo) ports, a MiniDisplay port, a 3.5 mm jack and of course, the AC adapter brick. The backlit keyboard, together with the fast and responsive trackpad offer a great experience, similar to MacBook Air. Ass a HD webcam and the display, and that's everything there is to see on the pixel.
Oh and speaking about the display…that thing is just amazing. 2500 x 1700, astonishingly sharp, bright, accurate and vivid. I'll stop here with describing it, as everything I'd say is similar to this. Frankly, I think this is the best laptop display on the market right now, with the Retina display from the MacBook Pro as it's only competitor. About the touchscreen part, it works relatively well, but I don't know how many users will engage in using it, as you need to hold it with one hand and swipe with the other, in order to use it at its full capacity. Not to mention the the Chrome OS needs to be made a bit more touch-friendly.
Switching to the performance part, the Pixel is the most powerful Chromebook ever, sporting a dual-core 1.8 GHz Intel Core i5 CPU, 4 GB of RAM and an integrated Intel HD 4000 graphics. Pair these specs with the Chrome OS and you get a sensationally fast and crash-free machine, which boots in less than ten seconds and resumes instantly. About the storing, in some way or another, Google makes you use Drive, as it comes with only 32 or 64 GB of internal storage and 1 TB of Drive storage, for three years, when you buy the Pixel. That's nice, but what about the times you don't have an internet connection?
Now for my least favorite part, the price: $1299 or $1449 with LTE. For that money, you can get a pretty powerful Windows laptop or even a MacBook Air. I can't even say that this was predictable, comparing to the previous generation's prices. I'm curious about how the Pixel will sell.
So there you have it, a combination between a sensational design, powerful processor and an ultra-high-resolution display, offering a one-of-a-kind user experience. If it weren't for that price, I'm sure the Chromebook Pixel would've been a top selling product from Google. But you can never know…
UnlockUnit.com provides safe, fast and secure cellphone unlocking solutions.