How to solve "APN settings not available for the current user profile"
You have just unlocked your phone and somehow, your device cannot connect to the Mobile Data network.
This usually happens when the APN setting is not auto-completed when the new SIM card is inserted. You will need to give your phone a little help by setting the APN manually.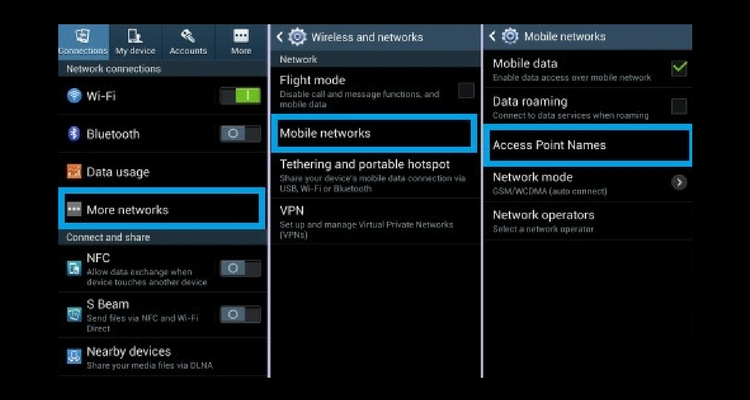 To do this please follow the next path:
Settings -> Wireless and Networks -> Mobile Networks
!!! Please note that if you have a custom ROM installed on your device (i.e. CyanogenMod etc.) you will need to revert to the stock ROM that was installed on the phone when it was initially purchased !!!
You will reach a screen where you can ADD a new APN or edit the ones that are already listed.
There are some rare cases when this apparently simple process does not work, leaving you unable to have access to Mobile Networks and sometimes not even GSM signal.
The message that your phone will display will be:
"APN settings not available for the current user profile"
Here's what you can do
Make sure that you are in the range of a known Wifi Network and follow the next steps:
Turn on Wifi and wait for your phone to connect to it
While connected to the Wifi Network, reboot the phone
As soon as the device restarts it will automatically connect to the previous Wifi network
Go to APN settings following the above-mentioned path and check if you are now able to view/edit
Alternative
Some users reported solving this problem through another simple method:
Turn Wifi ON
Go to Settings -> Mobile Networks -> Network Operators
A search will be executed and afterward, the list will be populated with one or more Network Operators
Choose the Network Provider from where you bought the SIM card
Go to Access Point Names and add the new APN
Save the data and done.
Everything should work fine now! Also, you can check the video below for a more visual guidance.
Last resort
As a last resort, you should backup all the valuable data you might have stored on your phone (Contacts, Photos, Documents etc.) and perform a Hard Reset.
A Hard Reset will delete and reinstall the newest version of the system feature that handles the changing of APN data and you should have access to add or edit the Access Point Names without experiencing any errors.