A few years ago, dropping your phone in water meant the very end of it. Simple as that. And I know a few persons who were grounded for dropping it in the toilet. What? We were in high school…
Time passed and manufacturers started being aware of such problems (getting phones wet, not grounding kids), so high-end models began featuring a specific IP certification, meaning that they were water and dust resistant. Basically, they were ok after being dropped in water for a few moments, even though most people took underwater photos with them as well.
But most phones don't have this feature, so if you still want to take them for a swim, waterproof cases are what you need! And the thing is that they're pretty awesome.
Before talking about what makes them cool, there's one thing we need to make clear…
Waterproof vs water resistant
These waterproof cases we're going to talk about allowing you to use your phone underwater for a pretty big amount of time. They are completely sealed and permit access to the phone's basic features (at least) or even all of them, depending on the case.
As for the IP67/8 certification, which is the most common among the latest devices and gives them water resistance, this allows you to do the same thing, but for a very limited time. In most cases, you can submerge the phone for around 30 minutes, no deeper than 1.5 meters. Oh, and you can use them just in fresh water, so no diving in the ocean!
What types of waterproof cases can I find?
I guess you all know the answer for this, right?
Yes, we're talking about universal waterproof cases, suitable for any smartphone that fits in, and dedicated models, which wrap around your phone perfectly, sealing everything.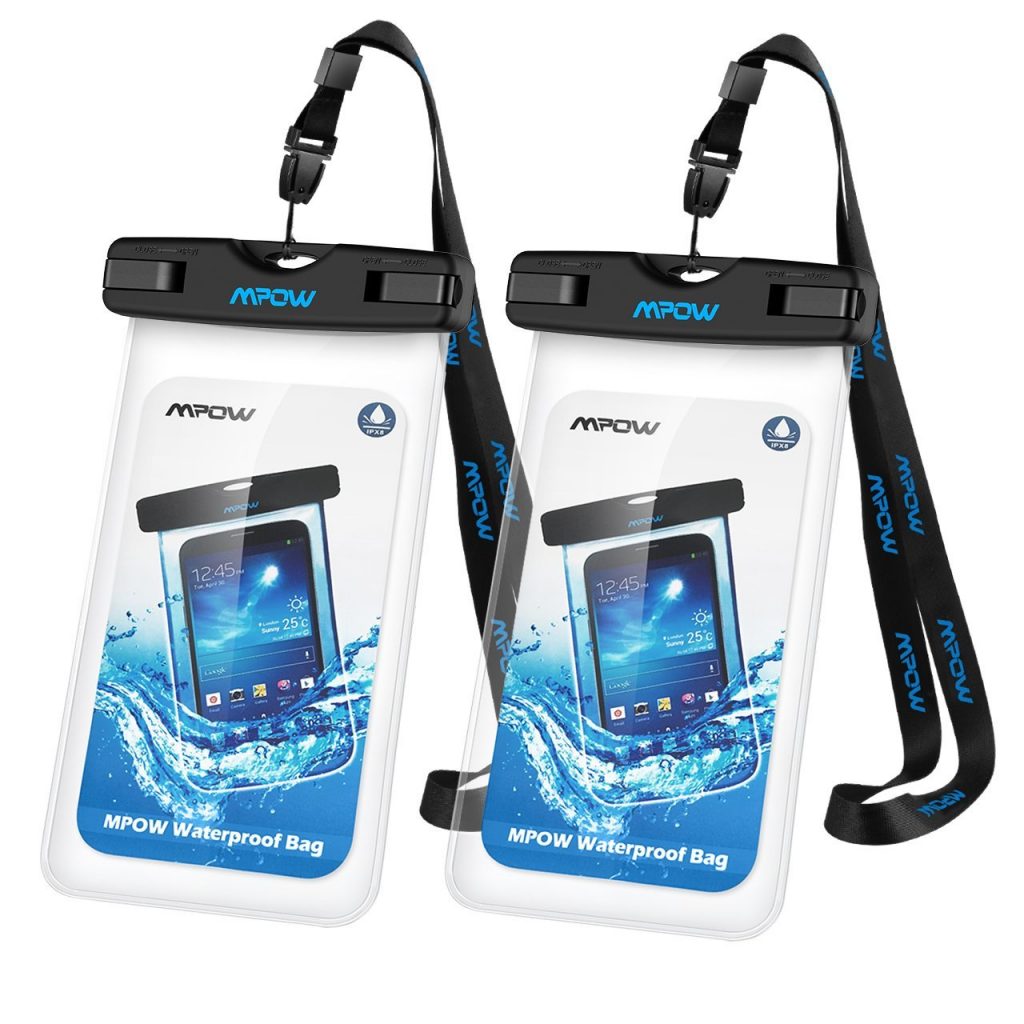 For example, we have the Mpow Universal Waterproof Case, perfect for going at the beach and taking underwater photos, as well as your phone is under six inches. The case includes a lanyard, so you can hang it around your neck, while the back is clear (d'ooh).  After all, it wouldn't make sense without this…
Even though they can perfectly seal your phone, these cases have a big disadvantage: they don't offer any kind of protection against shocks. Universal waterproof cases are made from relatively thin materials, so in case you drop your phone, there's no guarantee that it will remain in mint condition. Sure, it can keep scratches away, but you never know when you drop it.
As for the second type of waterproof cases, the dedicated models…well, these are actually the best choice you can make. And it's not that hard to guess why. O is it? Ok. It's about the protection. Let's look at a random model and see why it's such a great accessory.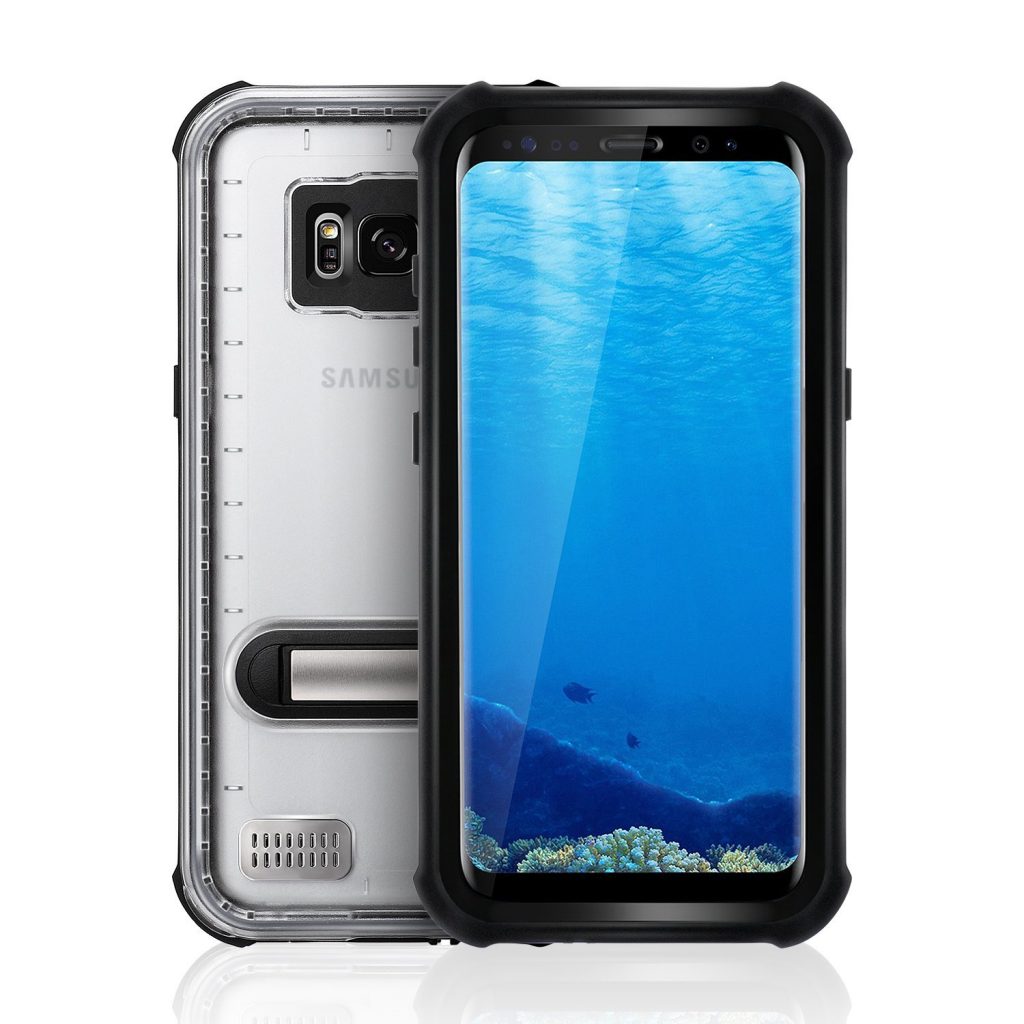 Here you go, the Sharkcase Protective Case for the Samsung Galaxy S8. Sure, it's bulky and doesn't look good at all, but this case does the job perfectly. Specifically, you can get it in water as deep as 2 meters, for an entire hour, which is definitely an improvement over the regular IP68 certification the phone has.
Of course, we just can't ignore the amount of protection the case offers to the phone, making it perfect for a lot of environments, not just the beach. A great, well-made waterproof case, if you ask me.
Worried about that amount of bulk? Don't worry, there's something for you as well. The Lifeproof FRE Series Case does exactly the same thing, in terms of protection, except the fact that it has a very slim profile. Basically, you get an insane amount of water protection, as well as a nice design.
Which are the best waterproof cases?
Unlike the previous, this can be a pretty tricky question, since there are tons of models, depending on the phone you want them for. However, we will talk a bit about what to look for when you're buying a case like this, in order to make sure you end up with the best one wrapping around your phone.
How deep can you take your phone?
A good case allows you to submerge it to around 2 meters, like the two models presented above. Still, there are some models which allow you to take it even deeper. Don't go for something that doesn't permit at least 2 meters.
For how long can I submerge my phone?
It's pretty much the same thing as with the depth. If the case doesn't grant at least 1 hours of smartphone underwater usage, consider something else.
Do I have access to all features?
Presuming that you're after waterproof cases because you want to take some underwater photos, you need to check if the model you want to buy covers the camera or not. Also, if your phone has a fingerprint scanner, that needs to be accessed as well. Same thing for side buttons!
Ideally, the perfect case offers access to all these, but it's not a condition. As long as you can use the essential features underwater, it's a good choice.
Does it protect my phone? 
This is not mandatory, though, since it depends on how careful you are with your phone. If you don't want to spend that much on an underwater case, you can opt for a model which doesn't add that much protection, but you need to take extra care of your phone.
Does it have any additional features?
Some waterproof cases have some extra tricks up their sleeve. Take the Lifeproof model presented above, for example, which has a special mounting system on the back. Others can even allow wireless charging and who knows what other things you can find in your search.
Wrap-up
In a nutshell, the answer is "yes, but it depends."
Waterproof cases are definitely worth it, but only if you're that kind of user with an active lifestyle and a big passion for beach sports or underwater photography. Just make sure the one you get is a significant update over your phone's IP certification. If it has one, of course, otherwise it's absolutely obvious that a case like this is a great investment.
What are your thoughts on this? Do you own a waterproof case for your phone? If so, which model? The comments section is waiting for your thoughts!