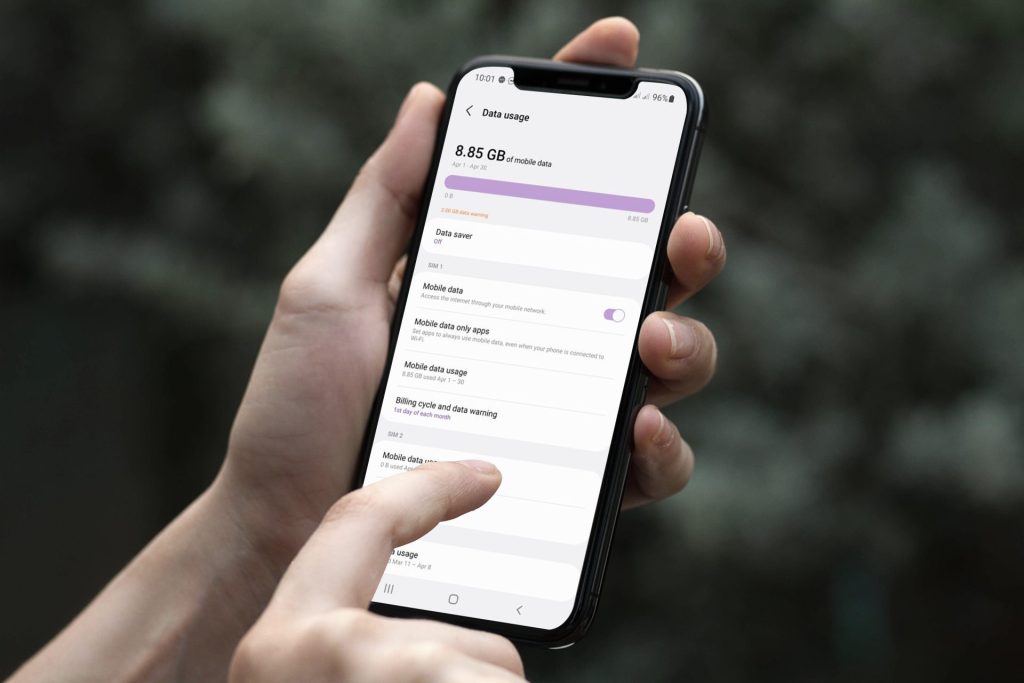 Limited Mobile DataDuring this pandemic, we're enjoying spending more time on our phones than we ever have before — and with all of those video calls, games, and data-hungry applications, we're also consuming a lot more data on our cell phones as a result of all of that usage.

However, mobile data is limited, and you must use it sparingly in order to make it last as long as possible. Here is a collection of tips and tricks that will help you preserve data on your phone so you may use it for extended periods of time.
Limited Mobile Data : Bandwidth Cap and Cache Data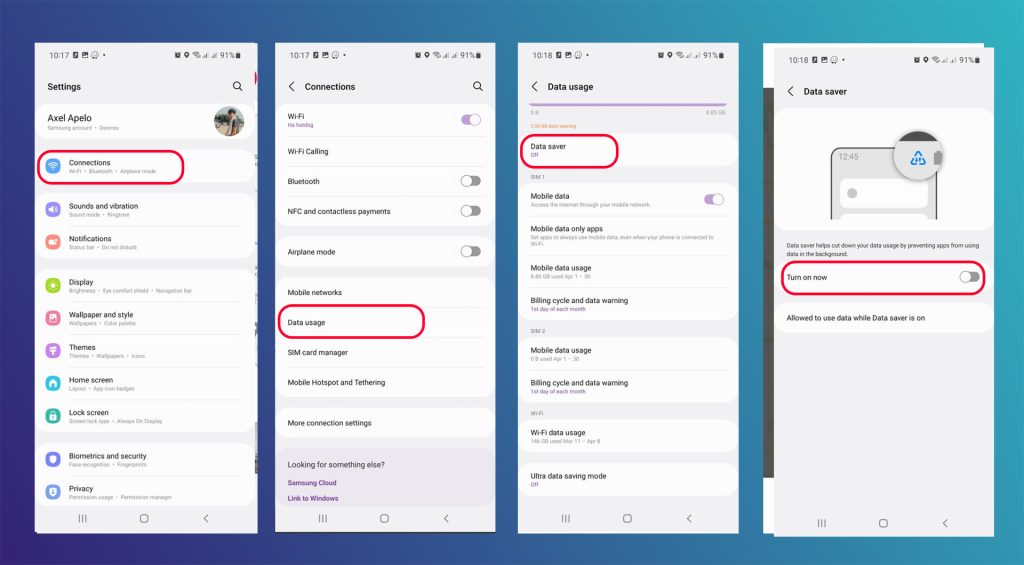 Android's Settings app allows you to set mobile data consumption limits.
Go to Settings > Data Network > Data Monitor > Data Saving mode.
Enable Data Saving Mode to stop apps from consuming data in the background when data traffic is limited. In non-whitelisted applications, you must touch pictures to view fresh messages in the background. In addition, you may choose which apps can use data in the background even if Data Saver is enabled.
Caching data for other apps allows you to access it even when offline. Did you know you can store maps in Google Maps? Caching Google Maps for offline use saves time and data.
After downloading a map, you can use your GPS to navigate even while your phone is offline.
Download maps of your home area and commonly visited places.
Open Google Maps and choose Offline Maps from the menu.
You can then hit Select your own map and zoom in or out to choose the area you want to save offline.
Select the area and click Download.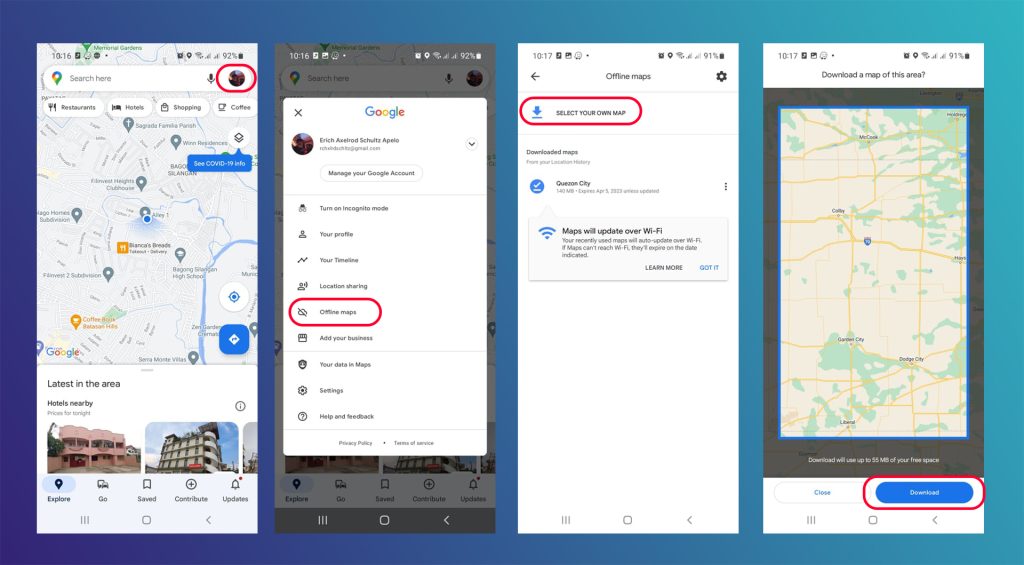 Disable Push Notifications
Applications, social media networks, and emails send you push notifications. If these are enabled, the apps will use your data to retrieve the latest information and display it as a push notification. So, unless you're connected to WiFi, turn off all push alerts.
Select the Settings icon.
Choose Apps (or Application manager).
Scroll down and click on the app of your choice.
To disable push notifications for that app, uncheck Show notifications.
Enable the "Update Over Wifi" Option
Most applications currently recommend that you update via WiFi to guarantee a stable connection during the update. Doing this for all of your applications will lower your data use since most apps and games take a considerable amount of data for each update.
(Old Google Play Store Layout)
Open the Google Play Store app
Click the upper right circle with your photo or letter.
(If you don't have a circle in the upper right, tap the three horizontal lines in the upper left)
Click Settings
Click Auto-update apps
Select Auto-update apps over WiFi only
(New Google Play Store Layout)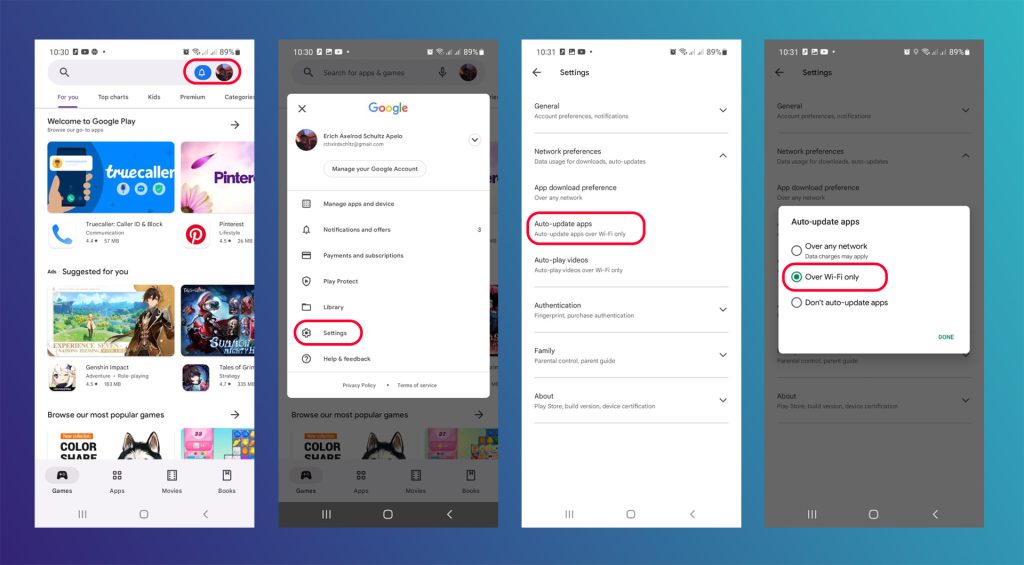 Launch Google Play Store
Click the upper right circle with your photo or letter.
Click Settings
Click Network preferences
Click Auto-update apps
Select Over Wi-Fi only (if not already selected).
Disable Auto-Sync
Android automatically syncs data to the Google cloud so it can be accessed during device migration. Also, several apps use this feature to keep track of your account. This android feature uses up your data when syncing, so here's how to disable it.
Go to Settings
Click Accounts & Sync
Turn of Auto-sync
On other devices, use the quick settings toggle in the notification bar to disable it.
With mobile data enabled, this option saves a lot of data. Once your phone is connected to WIFI, you can turn this feature back on.
Limited Mobile Data : Other Android data-saving tips:
When you're connected to Wi-Fi, you can download huge files.
When not in use, turn off mobile data.
Disable notifications for apps that you do not need to be notified about.
Set a longer update interval for regularly updated home screen widgets.
Conclusion
Saving mobile data ultimately comes down to our own self-awareness of how much we use. There's no end to everything you can do online, read, watch, or buy these days. Don't let data go to waste when you're online.