Even though some people hate this entire trend, we must admit that selfies are one of the most popular forms of photography nowadays.  And manufacturers are also aware of this, as they are equipping the latest smartphones with high-end front-facing cameras, able to take some great looking photos! But what use to have a great camera if you can't capture as much as possible? This is where some of the best selfie sticks come in!
You see them everywhere, especially near touristic objectives. Selfie sticks are a must-have accessory, helping you to make some beautiful memories. However, picking one isn't as easy as it looks!
Despite the market being invaded with tons of models, just a few of them are actually worth your money. After all, you don't want to pay for a model that doesn't connect to your phone or can't hold it properly. But don't worry, you don't need to look for the best selfie sticks anymore, since we did it for you.
Here you can find a selection of the greatest models money can buy right now, suitable for all budgets and pockets. And by pockets I mean that here you can find some pretty compact models as well!
Spigen S520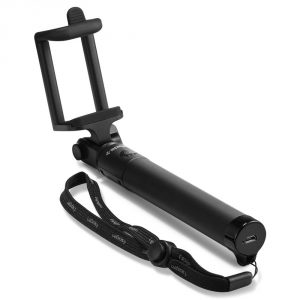 Speaking about compact selfie sticks, the first entry in our top is actually one of the smallest on the market. Not to mention that it's made by Spigen, a reputed phone accessory manufacturer.
It's a lightweight model, with a non-slip handle and extends to up to 31.5 inches. However, its biggest plus is the integrated Bluetooth remote. There's no need to connect it to your phone through a cable, since everything you need to do is pair it and you're ready to take photos. If you happen to own a GoPro or any other action camera with a similar mounting system, this selfie stick is compatible with it.

Yoozon Bluetooth Selfie Stick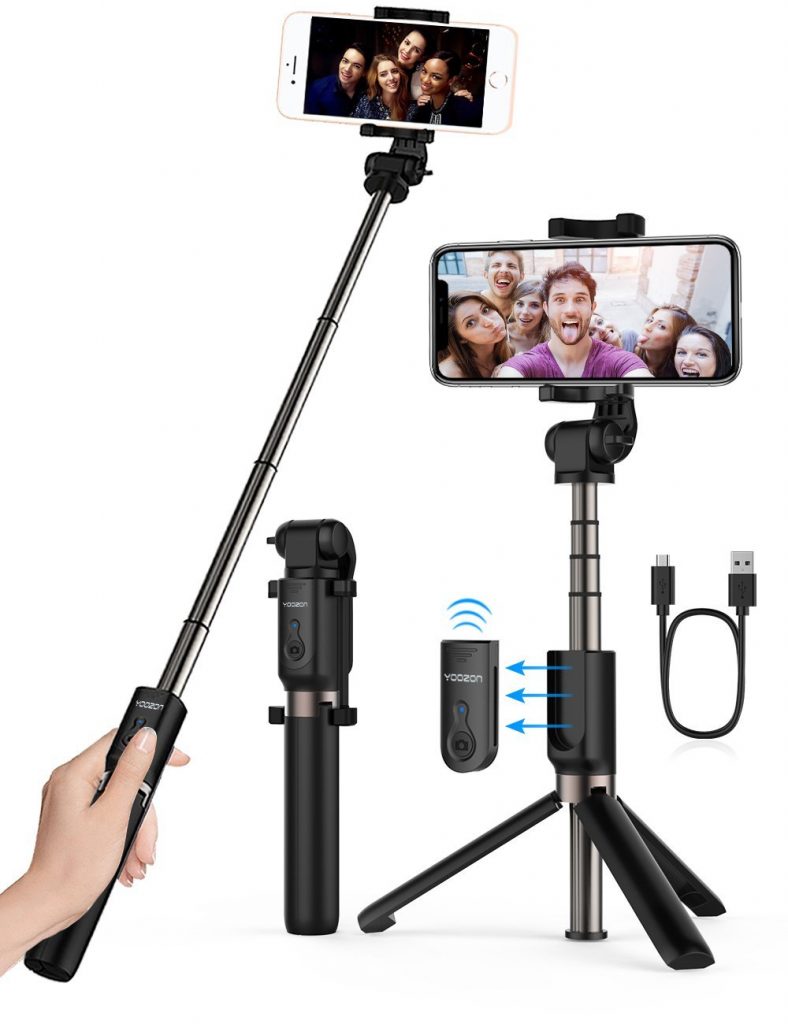 Don't let the name fool you, since this is quite an impressive model, worth of our list with the best selfie sticks. Lightweight and foldable, it was actually designed to take as little space as possible and fir in your back pocket with ease. But this is not all…
This stick doubles as a tripod and has a detachable Bluetooth remote, with a rechargeable battery. You guessed it, no cables for this one either! Also, the cradle head rotates to 360 degrees, so you have complete liberty in taking photos. By the way, it extends to up to almost 29 inches, so you can capture everything around you in your selfies.

Fugetek FT-568 Professional Monopod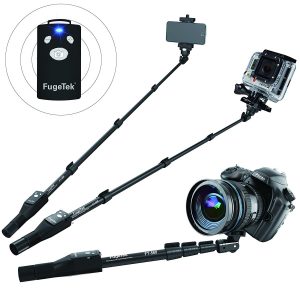 Looking for something compatible with more than smartphones? Like…a DSLR or action camera? Then you definitely need to check this model from Fugetek, which is clearly one of the best selfie sticks money can buy right now.
It comes with two interchangeable phone mounts, as well as a spring mount, with an additional mirror attachment, so you don't need to look at your phone's screen when taking a picture. And let's not forget about the detachable Bluetooth remote, which makes taking photos even easier!
Finally, one thing that's really impressive and not that encountered among selfie sticks is the possibility to zoom in and out using just the selfie stick. This can be done by using two buttons on the handle and man, this is absolutely practical.

Anker Selfie Stick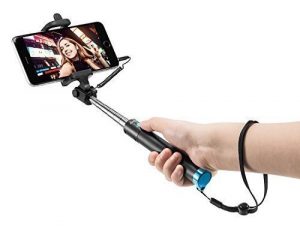 These guys aren't good just at making batteries and charging cables! With the Anker selfie stick, taking…uhm…selfies has never been so easy! Everything you need to do is plug in the connector to your phone's 3.5mm jack and you're good to go.
Sure, a Bluetooth model would've been better, but think about the advantages this lack of features brings. Yeah, I think we can call it like that. There's no need to charge your stick all the time, no to mention that you can save some battery life, since you don't need to turn on the Bluetooth connection.
The selfie stick extends to 32 inches, while the cradle is very flexible, so you can take shots from various angles. Otherwise, it measures a mere 7 inches, which is a bit bigger than a phone. No problems in storing this stick in a pocket! Bonus points for the design, by the way.

Mpow iSnap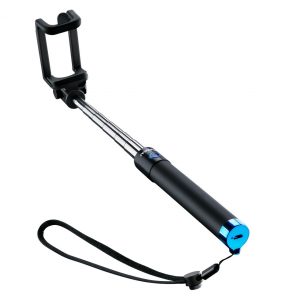 Simple and efficient. This is how the Mpow iSnap, one of the best selfie sticks of the moment, can be described. It's light and compact, measuring 7.1 inches (31.5, when extended), and available in four different colors.
Thanks to the built-in Bluetooth remote control, you can take group photos easily, with a perfect photo sight. Also, the head of the stick is 270 degree adjustable, so you can find the best angle or take selfies using the phone's rear-mounted camera.
Otherwise, there's nothing 'wow' about Mpow's selfie stick, but this doesn't mean that it's bad. On the contrary, it's a simple and easy to use model, worth every penny!

Mpow LED Light Selfie Stick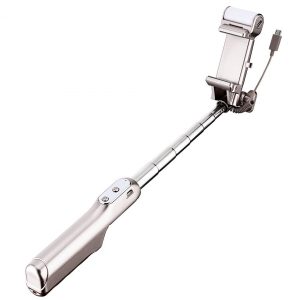 Mpow is present in our top with another selfie stick, but this one is pretty much the most interesting model we've seen so far. Seriously!
Besides the usual functions, which include Bluetooth connectivity and a super compact design, as well as a ridiculous size when extended, of 33.9 inches, this selfie stick has an LED flashlight. Yes, you read that right, a powerful light, so you can take selfies even in complete darkness.
The intrgrated battery has a capacity of 1500mAh, lasting an impressive 72 hours of LED light time, 30 hours of Bluetooth connection time or – get ready for this – 3 years of standy time.
Finally, let's not forget the small knock-down mirror, which makes it very easy to check your appearance. Because you need to look good in your selfies, yo!

MFW Extendable Monopod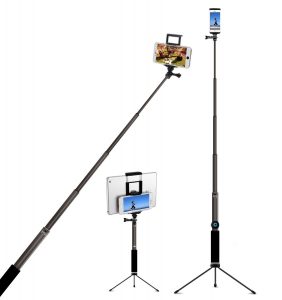 I thought that the previous selfie stick was long. I was absolutely wrong, because MFW's model is….something else: 59 inches when extended! 5-9 in-ches, folks, from just 15 inches. Let that sink in for a moment.
Add the fact that you can use this selfie stick with a GoPro or a DSLR as well, and it's obvious that it's an excellent choice for some of the craziest images ever. Just promise me that you won't climb any buildings to take pictures!
It comes with a Bluetooth remote control, a self-timer bar, and it can turn into a tripod, being perfect for any desk or tabletop. Add the fact that it's made of anodized aluminum and has an anti-slip rubber handle, and you have a complete selfie stick, usable in pretty much any environment.

And this is it, ladies and gents! A small selection of some of the best selfie sticks available right now. No matter if you want to get one just for a vacation or to take some professional looking photos, you will definitely find here a model suitable for your needs.
Which one of these would you buy? Let us know, by dropping a few lines below!