Alongside the Samsung Galaxy S6, the South Korean manufacturer introduced one of the most useful features ever: Fast Charging. Basically, you can refill your battery to 100% in about an hour, depending on the capacity. And this is pretty awesome, especially when you're on the go and need to recharge your handset quickly.
Unfortunately, there are situations in which Samsung's fast charger is not working and some users will consider this a very big problem. But, like most issues of this nature, there are some solutions for it, which you can quickly apply.
But before going to the solutions, let's see why this is actually happening.
Why is the Fast Charging feature not working?
Technically speaking, Fast Charging is relying on an increased limit of voltage, but it's not perfect. Some of the most common factors causing this feature to work improperly are the following:
Using a third-party charger, without support for Fast Charging

A faulty adapter

A broken cable

A dirty charging port

A software glitch

Fast charging being disabled
Except for the latter, none of this can be identified in just one step, so let's take each of them separately and see why Samsung's Fast Charger is not working and how you can solve this problem.
Enable Fast Charging
One of the first things you can do is check the phone's Settings menu and see if this feature is enabled or not. Some users reported that this is disabled after a software update, while some of them simply disable it by mistake.
Go to Menu > Settings > Battery and look for the Fast cable charging option. If it's not enabled, make sure you tap on the toggle and turn it on.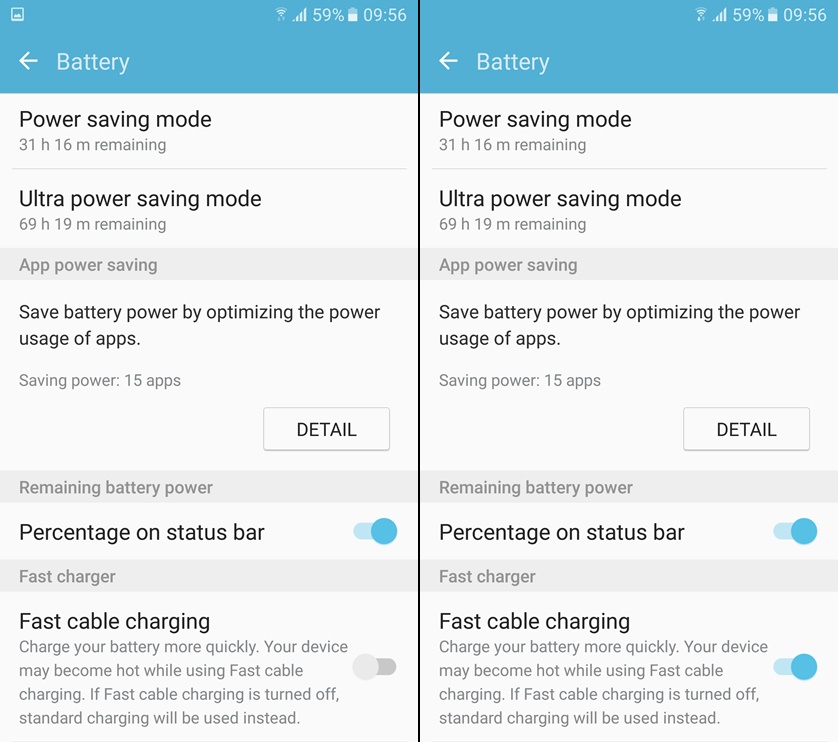 After this, plug in the phone with the original charger and see if Fast Charging is working properly now. If it doesn't, try restarting the phone and plug it in again.
Use just your phone's original charger (or a certified model)
All manufacturers using this technology recommend relying only on the original charger for fast charging a smartphone. The idea is simple: a regular charger won't be able to amplify the charging power, so the charging times will be longer than usual. Also, you need to make sure that the wall charger has an output rating of at least 2 Amps, in order to get the best out of this technology.
In order to make sure that your charger is capable of Fast Charging, look at the text on it. In Samsung's case, it should have Adaptive Fast Charging written on it and look like this: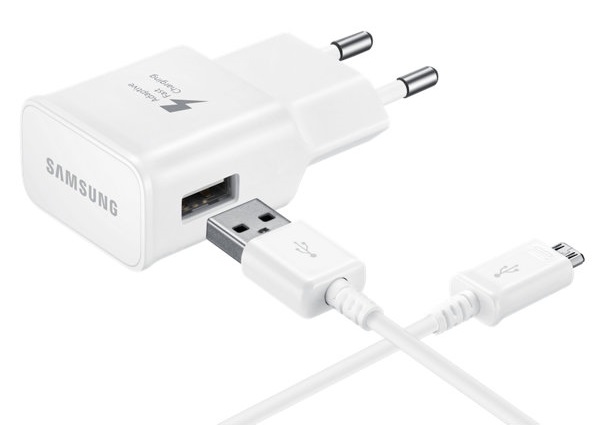 If it doesn't look like this, you're probably using a regular charger, hence your inability to charge your phone in less than an hour. On the other side, if you do have this type of charger and the problem is present, you can proceed to the next step.
Check the USB cable for any problems
USB cables are some of the most 'abused' items and they tend to break down a lot. Still, this doesn't mean that a faulty USB cable will completely stop charging your phone, but it's enough for a connector to break down and you will see that your Samsung Fast Charger is not working anymore.
If possible, try another cable and see if the issue persists. If it does, it means that it's something else causing this.
Clean the charging port
Ignored by many users, this is actually a very common reason because of which your Samsung fast charger is not working. Therefore, the solution is really simple: check inside the port for anything that can interfere with the charging process, like lint, dirt or other debris. Sometimes, a lot of stuff accumulates here and it can hinder the transfer of electricity.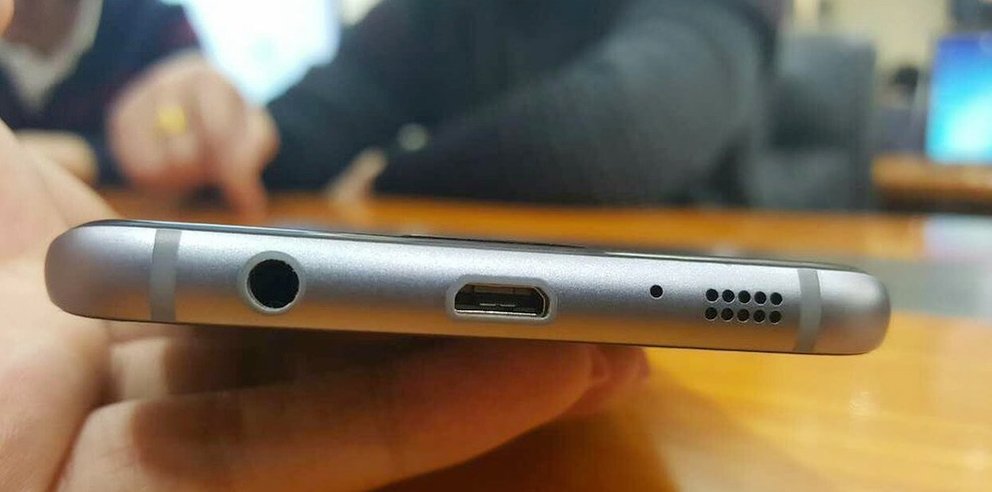 Cleaning the phone's charging port is actually easy, as long as you're careful while doing it. Follow these steps and you should be just fine:
Use a light source (flashlight) and look inside the phone's charging port for any signs of foreign materials which can interrupt the charging

If it's something there, turn out the phone and take a pair of tweezers or a toothpick

Carefully insert it into the port and try picking out the dirt

Take a small cotton swab, with some rubbing alcohol on it, and let it sit in the port for a few moments

Perform circular motions inside the port, in order to take out any dirt that's left

Wait for an hour, until the phone dries

Connect the charger and see if Fast Charging is working properly now
See if this is caused by an app
As mentioned above, this can be caused by a software glitch. Most likely, it's an app that you installed and messing with the phone's operating system, thus affecting its Fast Charging capabilities.
In order to figure out if it's this, you need to start the phone in Safe Mode, at first.
Press and hold the Power Button for a few seconds. You should see the power options menu

Long-press the Power off option

You will see a message, asking you if you want to reboot the phone in Safe Mode. Tap OK

Wait until the phone reboots. You should see Safe mode written in the bottom left corner of the screen
Plug in the charger and see if Fast Charging is now working properly. If it does, it means that one of the apps you installed recently is causing the issue, so proceed to uninstalling it. If it doesn't you can proceed to the next step.
Perform a Factory Reset
If your Samsung's fast charger is not working even after trying all these fixes, you can try a Factory Reset. This will put the phone into its original state, by erasing everything you installed on it. Therefore, it's highly recommended to make a full backup of the data, in case you want to restore it.
After this, please follow the next steps:
Go to Settings > Advanced Settings

Look for Backup & reset, then tap on it

Look for Factory data reset, then tap on it

Tap on Reset phone

Wait for a few moments, until the phone restarts
Now that the phone is in its original state, you can try using Fast Charging and see if it works like it should.
If you're unlucky enough and it still doesn't respond, the only solution remains taking the phone to a service or even return it, so you can get a new one in exchange, if it's still covered by warranty.
By any means, don't try fixing it by yourself if you don't have the proper technical background since you can fully damage it and risk ending up with a bricked phone that's not covered by warranty anymore.
Please let us know which one of these methods worked in your case! Also, if you know any other ways to fix a faulty Fast Charging feature on a Samsung handset, do tell us about it, using the comments section below.