Nowadays, smartphone cameras have reached an impressive level, being able to take some amazing photographs and videos. Therefore, it's not surprising that a lot of people don't even get cameras anymore, as they rely on the one they always have in their pocket.
Every year, manufacturers are doing their best in order to improve the snappers on their models, but despite all these efforts, there's still one big aspect which needs a lot of work in order to be perfect: stabilization.
Until one brand will get this right, you can always rely on a phone camera stabilizer though, and get rid of those shaky videos once and for all.
If you're after one yourself, then you should know that there are a couple of things that need to be checked at first, not to mention that it can be difficult to decide upon one since there are so many of them available. But you're in the right place since we've put together a guide for people like you, where we explain everything about stabilizers and make a list with some of the models that are worth checking out.
What should I look for in a phone camera stabilizer?
As you probably noticed, phone camera stabilizers – or gimbals, if you prefer – come at various prices, the ones with the most features being, obviously, more expensive.Before splashing the cash, take a look at a few features and see to which extent you need them. To be more specific, we're talking about the following:
Axis stabilization
Obviously, this is the most important feature of a stabilizer, as it allows you to keep the camera steady. Currently, you can choose between models with two-axis stabilizers and three-axis stabilizers.
The first category allows stabilization of tilt and roll, while three-axis stabilizers also stabilize your pan. Generally speaking, three-axis models are better for shooting moving footage, so our recommendation is to opt for such models, as long as you can afford it.
Battery type
You can opt for a model with alkaline batteries, which need to be replaced periodically, or something with a rechargeable Li-Ion battery. They do have shorter running times, though, but you don't need to carry batteries around all the time. It's up to your to decide which option suits you best.
Weight
No matter what phone camera stabilizer you're getting, it shouldn't be that heavy. However, if you're planning to use it for a prolonged period, you should consider how much it weighs. Our recommendation is to opt for something as light as possible, but without sacrificing important features.
Phone compatibility
Last but not least, you need to make sure that the stabilizer works alongside your phone. There are models compatible just with iOS, as well as Android-exclusive models. Also, you should – if possible test the gimbal and see if it works properly with your phone before paying for it.
Ok, so now we know which are the most important features to consider when buying a phone camera stabilizer, but which models actually meet all these conditions?
What's the best phone camera stabilizer on the market?
As mentioned above, there are a lot of models from which you can choose. However, the ones presented on this list are considered the best money can buy.
DJI Osmo Mobile 2 Phone Gimbal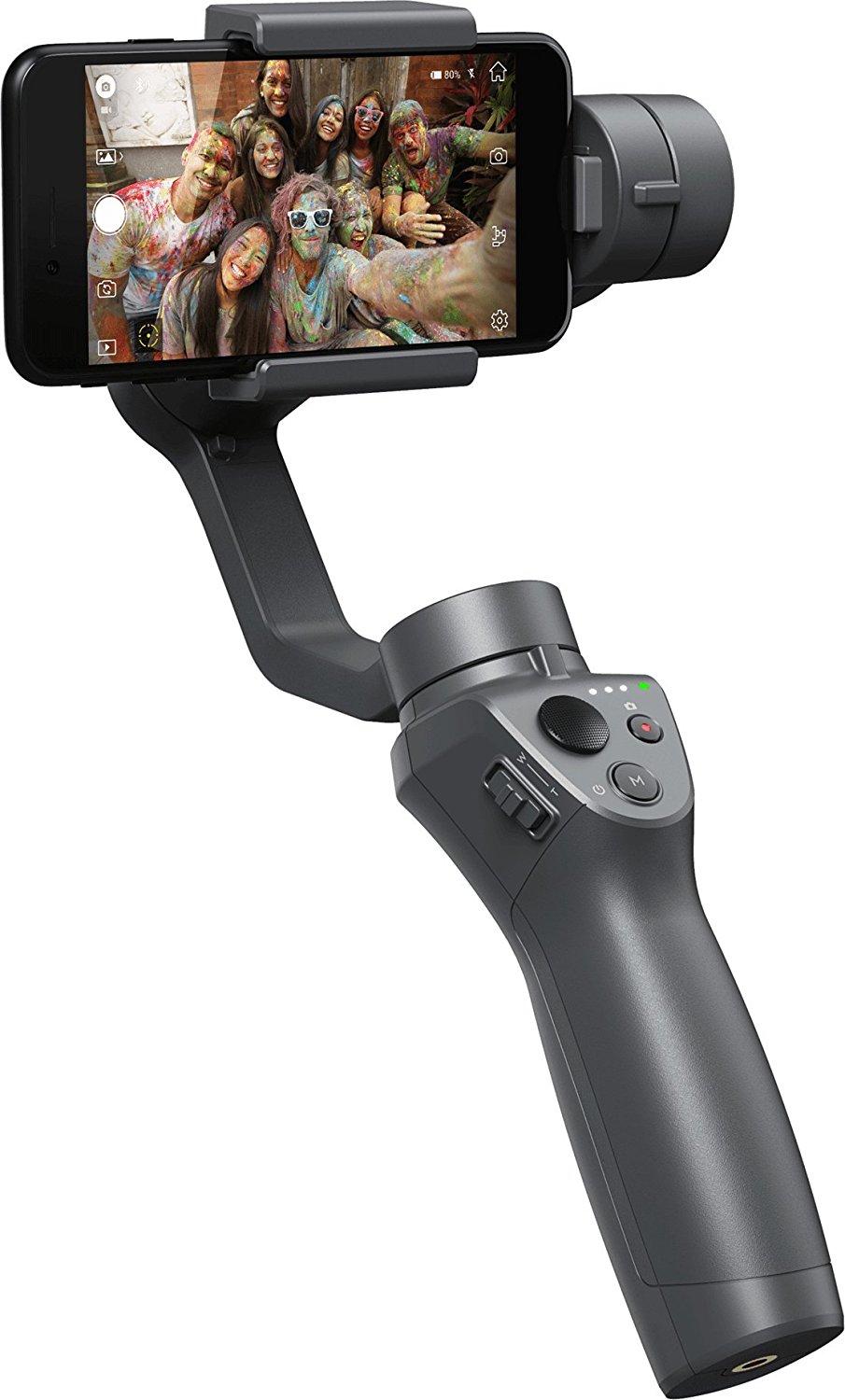 You know what they say, you get what you pay for. Considered by many as the best gimbal money can buy right now, the Osmo is packed with several innovative features, allowing you to make the most out of your phone's camera.
It comes with active track controls for targeted subjects, not to mention the included timelapse function and live streaming abilities. Incredibly well build and delivering smooth performance, this can be perceived as the ultimate stabilizers. However, the high price and the DJI GO app, which isn't well optimized (but this can be fixed) can make it a bit inaccessible for most users.


Zhiyun Smooth-Q 3-Axis Handheld Gimbal Stabilizer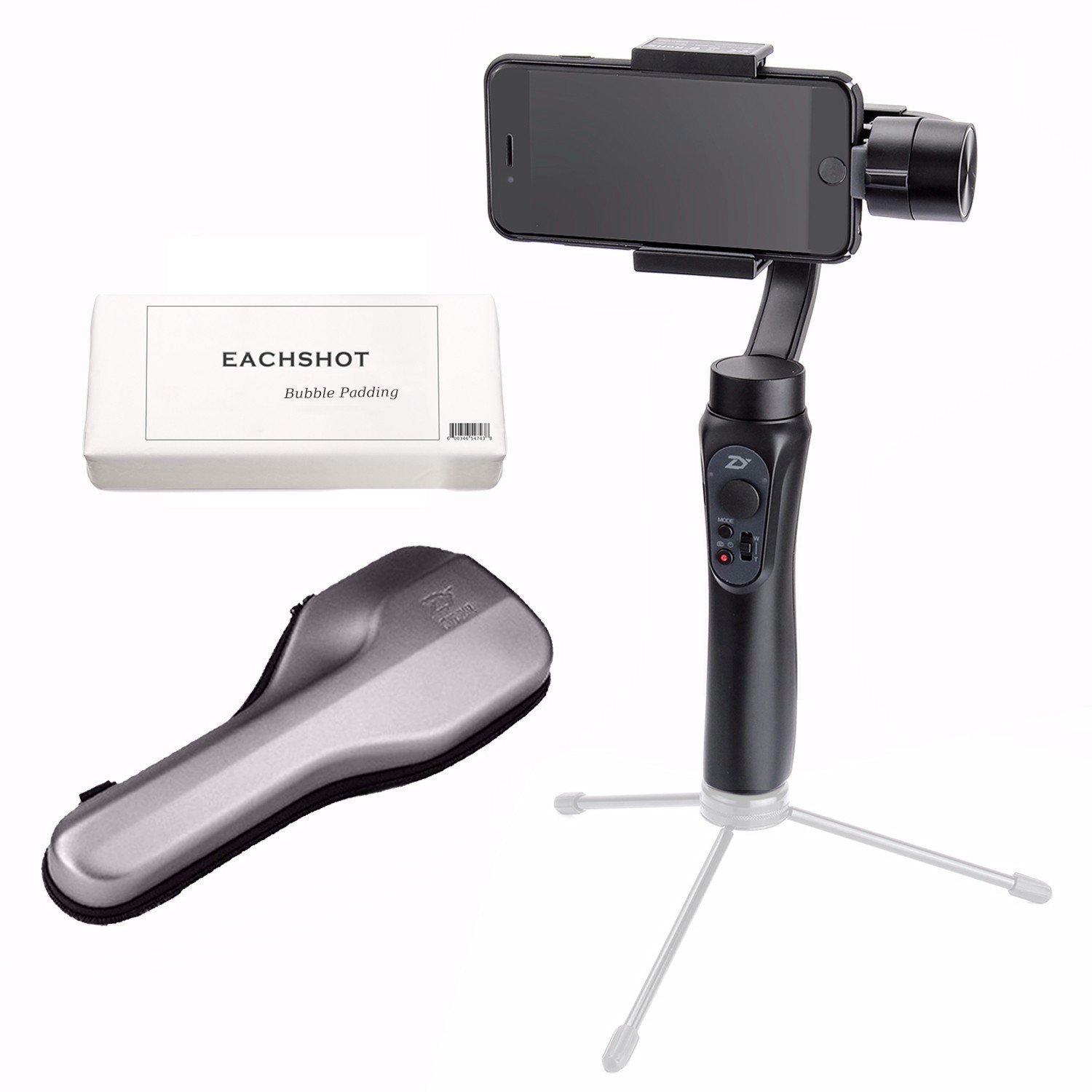 A great alternative to DJI's gimbal, available for a way better price, comes from Zhiyun. It's a sleek and light model, designed to be used by anybody and featuring almost 360-degree rotation. Also, we were impressed by the number of special features it has!
The gimbal works with phones with screen sizes up to 6.0″ and comes with a really cool app that adds a variety of filming features. Specifically, we're talking about automatic zooming, face tracking, panoramic filming and time-lapse photography.
Oh, and let's not forget about the four-way joystick, built into the handle, which allows you to control the pan, tilt, and roll.


Steadicam Smoothee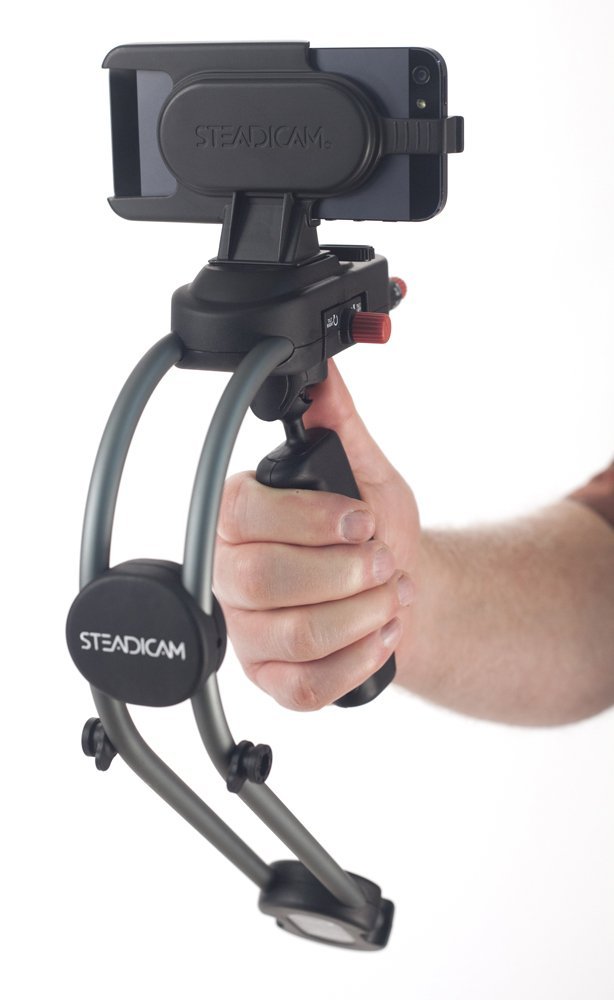 Even though it's not as…technologized as the previous two entries on this list, the Steadicam Smoothee is able to remove all vibrations, resulting in a smooth video footage. It's widely used among sports enthusiasts, since it's a solid phone camera stabilizer, easy to carry and able to deal with an impact. Because hey, we're talking about sports here.
Besides the agile, compact and lightweight design, the Steadicam Smoothee has a universal mounting system, so, besides smartphones, you can also use it with a GoPro camera. Just give it a try and you will be definitely satisfied with the results!


LanParte HHG-01 3-Axis Motorized Handheld Gimbal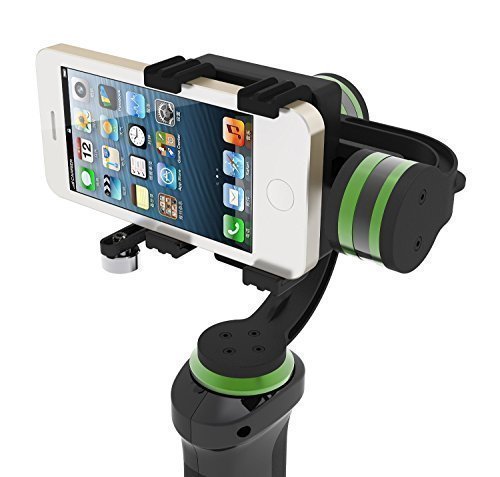 Moving on, we have yet another great phone camera stabilizer, despite being made by a manufacturer which, at first, doesn't ring a bell for many. It comes with a hard shell carrying case, which incorporates shoulder strap buckles, while the gimbal itself is made of durable plastic and features a rubberized coating, for an increased grip.
Since it's a 3-axis model, it has three motors, which provide stabilization across pan, tilt and roll axis. It will stabilize movement in almost all directions – not like a professional model, but you can't complain – and with a little practice you will be able to obtain some great looking footage.
The motors can be a bit noisy, but it's nothing that important, since, overall, it's a great stabilizer, easy to set up and with a really cool look, complemented by the green metallic stripes.


CYL Glide Gear Cellfie Stabilizer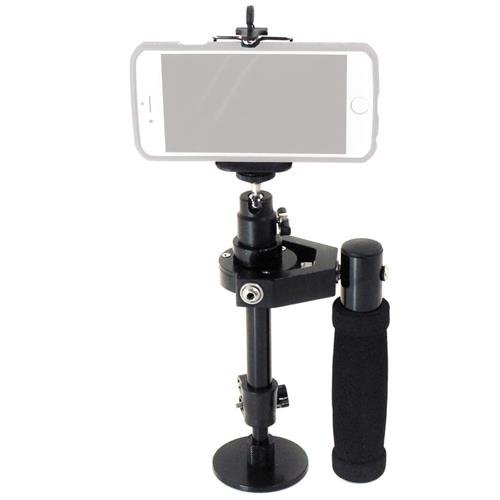 At first, this phone camera stabilizer looks a bit unusual, but the truth is that it's great at eliminating shakiness from your videos. It's a lightweight model, with a compact design, compatible with both smartphones and cameras – GoPros included – being great for steady shots as well as moving footage.
You will receive a carrying case, for increased portability, while one of the most special features is the ball head, for fast attachment and balance. A simple to use, but yet very efficient stabilizer!


Bonus: ChargerCity Multi-Use Stabilizer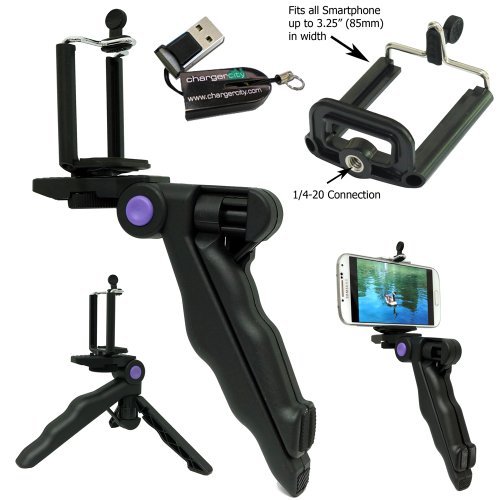 We saved a very interesting phone camera stabilizer for the end of our top, as we were a bit fascinated by both the design and functionality. Actually, it's more than just a stabilizer, since it can act like a tripod as well.
The ChargerCity stabilizer has a pistol-like design, offering an incredible grip. It doesn't have any motors in it, but it can seriously improve the quality of your footage. If you want to take some steady shots, it can transform into a tripod in just a few seconds. And it's seriously stable, being tested even in seriously windy environments.
A simple, yet effective stabilizer which won't break the bank and deliver some great looking videos and photos!


And we're all done! Whether you're looking for a high-end phone camera stabilizer or just an entry-level model, with a pocket-friendly price tag, you will definitely find one you'll like here.
Let us know if you managed to test any of these models, or any other stabilizer that it's not present here but it should, and share some details about how it went, by dropping a few lines in the comments section below.