Have I told you lately that Android is a pretty amazing operating system? Well, it is, having a couple of awesome features, able to save you in some nasty situations. But sometimes, it can also stop working, all of a sudden, leaving you with a bricked phone. And this is something nobody likes, especially due to the data it's stored on it, like contacts, photos and so on.
We already talked about how you can recover lost photos, so today we're focusing a bit on contacts. To be more specific, we're going to find out where are contacts stored on Android, how you can recover them, and how to backup everything, in order to avoid an unpleasant situation.
Where can I find the contacts on my Android phone?
Technically speaking, there is no exact locations for the contacts database, as it depends on the phone's manufacturer. In an ideal world, in which every Android phone would have a stock interface, you can find them by going to /data/data/com.android.providers.contacts/databases/contacts.db
Here, you shouldn't have any problems in finding the Contacts database, in a SQLite 3 format.
This database can be then copied and browsed through on your PC, using tools like SQLiteman or DB Browser for SQLite, the latter being available for various platforms. You will then see all your contacts and eventually re-use them on another or the same phone.
But I did say that this happens in an ideal world, right?
Well, in our world, there are two main aspects which don't allow you to rely on this method…
Not all phones have stock Android. Actually, the majority of smartphones are running a custom interface, so the path mentioned above can be slightly different, depending on your phone's brand.
Secondly, in order to access the database, you need to have a rooted phone. And again, not all users did this to their devices.
A bit complicated, isn't it? Not really, but there's an easier way too.
How can I backup my Android contacts?
If you want to save them, you know, just in case, but you can't find where are your contacts stored on Android, there are a few ways of backing them up, using some pretty cool apps.
One of my favorites is Wondershare MobileGo Android Desktop Manager, a complete utility, perfect for transferring all kinds of stuff from your phone to a PC. And it's dead simple to use since you just need to make a few clicks and you're all done.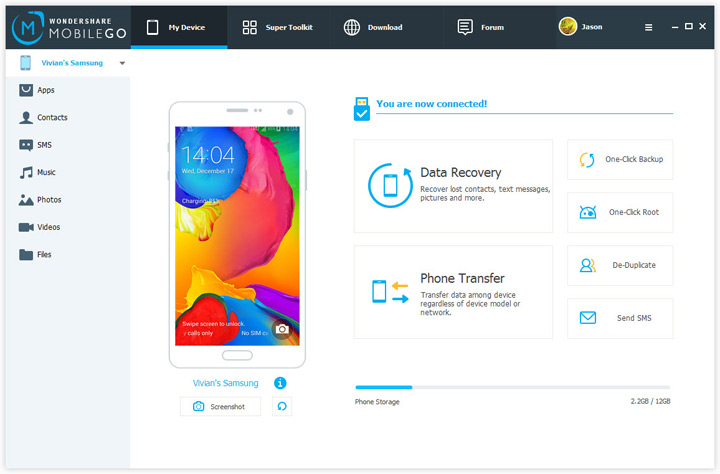 Here are the steps you need to follow in order to back up your contacts:
Step 1: Install Android Desktop Manager
Pretty obvious, isn't it? Using the download link above, get the installation kit and follow the wizard.
Step 2: Connect your phone to your PC
Using a USB cable, connect the two devices. Shortly after this, your phone will be recognized by the software, so tap 'Yes' on the screen, in order to turn on USB debugging. Once you've done this, the tool will start analyzing everything that is stored on the phone.
Step 3: Export your contacts
Now it's time to copy contacts from Android to PC. Go to Contacts from the menu on the left, then click on the Export option from the top menu. Here you will see two options: Export selected contacts to computer and Export all contacts to computer, each of them giving you the possibility to save them in different places.
Choose all contacts, as well as your destination of choice. This shouldn't take more than a few minutes, depending on the phone and Android version.
How can I recover lost Android contacts?
If you were unlucky enough to end up with a bricked phone, for various reasons, you can still get your contacts back.
Remember the Android Data Recovery Tool we talked about when trying to find a way to recover photos? Well, since it's absolutely awesome, it can also help you find contacts, hidden somewhere in the phone's internal storage.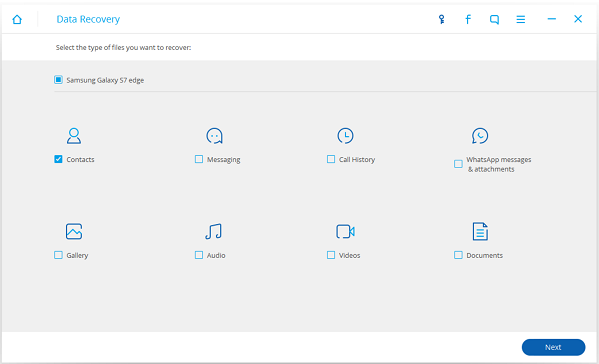 The process is very similar to the one through which you recover photos. After your phone is scanned, you will see a screen showing you the types of data available on your phone. Pick Contacts, hit Next and wait until the tool does the trick. Then, you can choose which contact you can recover.
Wrap-up
Doesn't seem that hard get track of those numbers, isn't it? Hopefully, you will now be able to find contacts stored on Android with ease, no matter if you lost them or just want to be precautious and store them in a safe place.
How did our methods work for you? Let us know, by dropping a few lines in the comments section below!