Usually, adding movies to iTunes, so you can watch them on your iPhone, iPad or any other iDevice can be pretty easy. However, after updating the software to its latest version, iTunes 12, it seems almost impossible to add some formats of movie files. Specifically, I'm talking about MP4.
No matter how much you try, they just won't appear in the My Movies or TV Shows sections in iTunes. And not just the latest version has this problem, as some users reported the same thing for iTunes 11.
If you're in the same situation, we invite you to keep reading, as the instructions presented below will surely help you fix this.
How to add MP4 files to iTunes 12
Usually, there are two main ways through which you can add movies to iTunes, in an MP4 format.
Drag videos to the iTunes Library
This is actually the simplest process since everything you need to do is open iTunes on your PC or Mac, then drag the video files to the iTunes window and they will be imported to the Movies section of the library
Add files to the iTunes Library
While in iTunes, go to File > Add File to Library and select the videos or folder you want to import to your iTunes library. Wait for a few moments, until the transfer is completed, and you will see the videos in Home Videos, right under Movies.
Ok, so these are the basics steps you usually follow to add movies to iTunes. But what happens when you can't do this with your MP4 files? First of all, let's see why is this happening.
Why can't I add MP4 files to iTunes?
In order to add MP4 files to your iTunes library, the files should be in a strict MP4 video format. We're talking about the MPEG-4 video codec, with AAC audio codec, as well as H.264 video codec with AAC audio codec.
MP4 is a media container format, encoded with various video and audio codec, like DivX, XVID, H.264 or H.263, MPEG-4 and so on. Basically, if the MP4 files you're trying to add are encoded with an iTunes unsupported video or audio codec, you won't be able to add them to the library or play them.
In this case, it's obvious that the only solution remains to find a good converter, which can adjust your MP4 files, so you can transfer them to the iTunes library.
How to convert MP4 files with the right codecs
As you probably know, there are tons of converting tools available online, but we like to recommend only the best, with the easiest to use user interface.
In this case, we're going to use the Aiseesoft Total Video Converter, which managed to 'fix' our MP4 files, so you can finally add movies to iTunes. You can download for free. After you're done, please follow these steps:
Install Aiseesoft Total Video Converter on your PC, then open it

Click on the Add File Button

Browse for the MP4 files you want to convert, select them, then click open. You can also drag and drop them directly into the program's window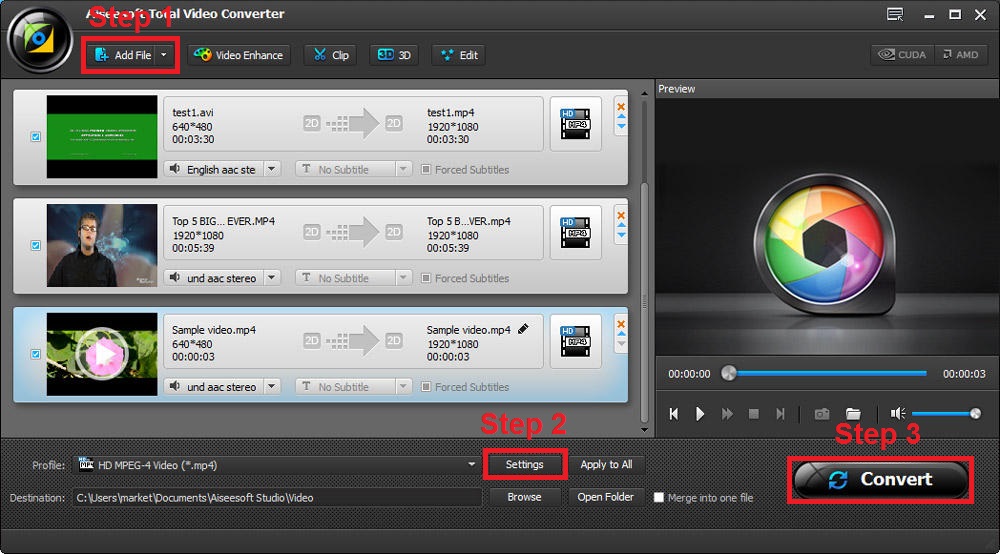 Right under the window where the newly added video files are shown, you should see a drop-down menu called profile. Click on it to select the output format. In our case, we need to make sure it's iTunes compatible, so choose MPEG4 Video (*.mp4), from the General Video category




If you're adding an HD or full HD video file, it's recommended to select H.264/MPEG-4 AVC Video (*.mp4), from the HD Video category. You can also click on the Setting button, to adjust the specific video resolution

After you're done with the settings, click on the Convert button

Wait until your MP4 movies are converted to an iTunes friendly format
Now that you're done converting, you can add movies to iTunes by following the steps presented above, in the "How to add MP4 files to iTunes 12" section.
And this should be it. By simply following the steps in this guide, you should be able to add movies to iTunes, in a compatible MP4 format, so you can watch them anywhere, whether it's on an iPhone, iPad, or iPod.
As always, the feedback is appreciated, so do let us know if this method worked for you. Also, if you know any alternative ways to add MP4 files to iTunes 12, share them with us, by dropping some lines in the comments section below.