iPhones are pretty amazing smartphones, but, from time to time, they do fail at doing even some of the basic tasks. For example, a lot of users complain that their iPhone is dropping calls, all of a sudden, due to bad reception and display the "call failed" message.
The issue is even more frustrating as this can happen even in the middle of a conversation. However, there's a fix for this, like for most iPhone-related issues. But first, let's understand the actual causes of this problem.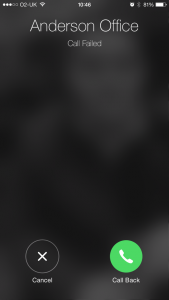 Why is my iPhone dropping calls?
Apparently, this error occurs – in most cases – due to poor signal. You are either in an area with a low coverage or the carrier's network has some temporary issues.
On the other side, it could be your SIM card as well. The card can be damaged or it's not properly placed in its slot. The software bugs affecting this shouldn't be ignored either since some users reported that their iPhone is dropping calls because of a software-related issue.
What can I do in order to stop my iPhone from dropping calls?
Below you can find a list of all the things you can try in order to fix this issue. Not all of them are guaranteed to work, though, since it totally depends on the real cause of the problem. However, it's worth giving them a try.
Restart your phone
This is basically the first thing you can do when it comes to many problems of an iPhone, call dropping included. Restart the device and try placing a call. See if it works properly after this since the communication with the cell towers in your area will be restarted and it should be receiving signal properly.
Put it on airplane mode, then back to normal
Another quick fix is to toggle this mode for a few seconds since it also resets the communication with the network.
Turn your phone off every night
This tip sounds absolutely weird, but in fact, it completely makes sense. Apparently, a full cache memory causes any incoming call to drop, so turning it off every night automatically closes some apps and frees some space, by deleting the cache memory.
If this issue persists, try turning the phone off a few nights and see if, throughout the day, it's still having troubles placing calls.
Close some background apps
When you have a lot of apps running in the background, the cache memory will have a hard time handling the calls. You don't need to close all of them, just the ones you really don't need and your phone should be back to normal.
Reset the Network Settings
If you believe that your iPhone is dropping calls due to a network problem, you can try resetting the settings. Go to Settings > General > Reset > Reset Network Settings. Try placing a call after this and see if the issue persists.
Check your caller's ID
This could also be one of the problem's causes if left unchecked. Go to Settings > Phone > Show My Caller ID, then switching it to On, if it's not done already.
Dial *#31#
This is a hidden code which can be used to disable your phone's outgoing anonymity status as well. If the previous method doesn't work, try this one. Basically, it does the same thing, but maybe it works on your phone.
Set Date & Time Automatically
Check if your phone's Date and Time are set properly, especially if you have recently traveled to different time zones. Surprisingly, setting this function to Automatically can fix the call-dropping issue.
Make sure that the phone is connected to a Wi-Fi network, then go to Settings > General > Date and Time and see if "Set Automatically" is turned on.
Reinsert your SIM card
As mentioned above, one of the reasons why your iPhone is dropping calls could be a SIM card failure. You can either ask for a replacement or simply reinsert it, as this might fix the problem.
Using the special SIM-eject tool or a simple paper clip, open the tray, take out the card, then put it back it. This basic procedure has proven very effective for a lot of users and solved everything.
Additionally, insert the SIM into another smartphone and see if it causes the same thing. Also, you can try putting another working SIM in your iPhone and see if you still get the call failed error.
Check for a Carrier Settings Update
In some cases, when the phone is experiencing issues with the calls, the carrier is also aware of this and releases an update, in order to improve your ability to connect to the network.
To check for this, go to Settings > General > About and wait for a few seconds. If the update is available, a pop-up message should appear, prompting you to update. If it doesn't appear after 15 seconds, it means that there's nothing available yet.
Call your carrier
If reinserting your SIM doesn't work and there is no carrier setting update, it's a good idea to contact your current carrier and see if there's something wrong with the network itself. Maybe you're not the only one getting the same error and, in this case, there's no reason to panic.
On the other site, it could be a case of highly damaged SIM card, so you can ask for a replacement.
Update iOS
There are situations in which a bug is the main reason why your iPhone is dropping calls. Due to some errors, it creates on the device, you are technically forced to update your operating system. And most updates do come with fixes and improvements for situations like this.
First thing first, make sure that you have at least 50% batter, then go to Settings > General > Software Update. If a package is available, your phone will start downloading it. As soon as it's ready, tap on Install Now and wait until the process is over, to see if the issue persists.
Reset all Settings/Erase the iPhone
It's well known that a wrong setting can have an impact on the other ones. Try resetting your settings to default and see if it fixes the problem. Don't worry, none of your data will be deleted. Go to Settings > General > Reset > Reset all settings. Enter your passcode and confirm.
Additionally, you can try fully erasing your device, if the iPhone is dropping calls even after the reset. Back up your data, then go to Settings > General > Reset > Reset All Content and Settings. Enter the passcode, then tap Erase iPhone to confirm.
Repair your iPhone
Finally, if none of the tips above worked, there's a chance to deal with a hardware problem. Take your phone to the local Apple Store and, if it's covered by Apple Care, you might as well get it repaired free of charge.
Which one of these solutions stopped your phone from randomly dropping calls? Let us know how it went, using the comments section below.