Gone are the days when the average user bought a camera for some holiday photos, as smartphones are packed with very potent snappers on the back, able to capture some of the best moments in your life. Simply take out your phone, press the shutter button and you're done.
But how cool would it be to also be able to print them on your own? Well, it's actually possible, using a portable photo printer! No more taking your photos to a photo printing center all the time, since these little gadgets are very easy to carry around and easy to use.
We looked for a few of them, selected the best you can currently buy and put them together is a top. But before see which model is actually worth the money, let's see what magic allows them to print photos on the go.  
How does a portable photo printer work?
Remember those instant Polaroid cameras? Well, the principle is very similar. These printers come with integrated batteries, so you don't need to connect them to a wall outlet in order to use them, and connect to your phone wirelessly.
Using a dedicated app, in most cases, you just select the photos you want to print and wait for a few seconds until everything is ready. However, due to their compact dimensions, the sizes of the photos are also limited to something between 2" to 7". But these should be enough for some nice travel photos, right?
Obviously, it won't print forever, so the ink cartridges will need refilling after a while, not to mention that it needs some special photo paper from time to time. But this depends solely on how often you print photos.
Generally speaking, it works just like your regular printer, except it has a compact design.
What are the best printers I can get?
Ok, now that we know how these little things work, let's see which one of them is the best for you, by checking out the features, as well as pros and cons, of the models we found!
HP Sprocket Portable Photo Printer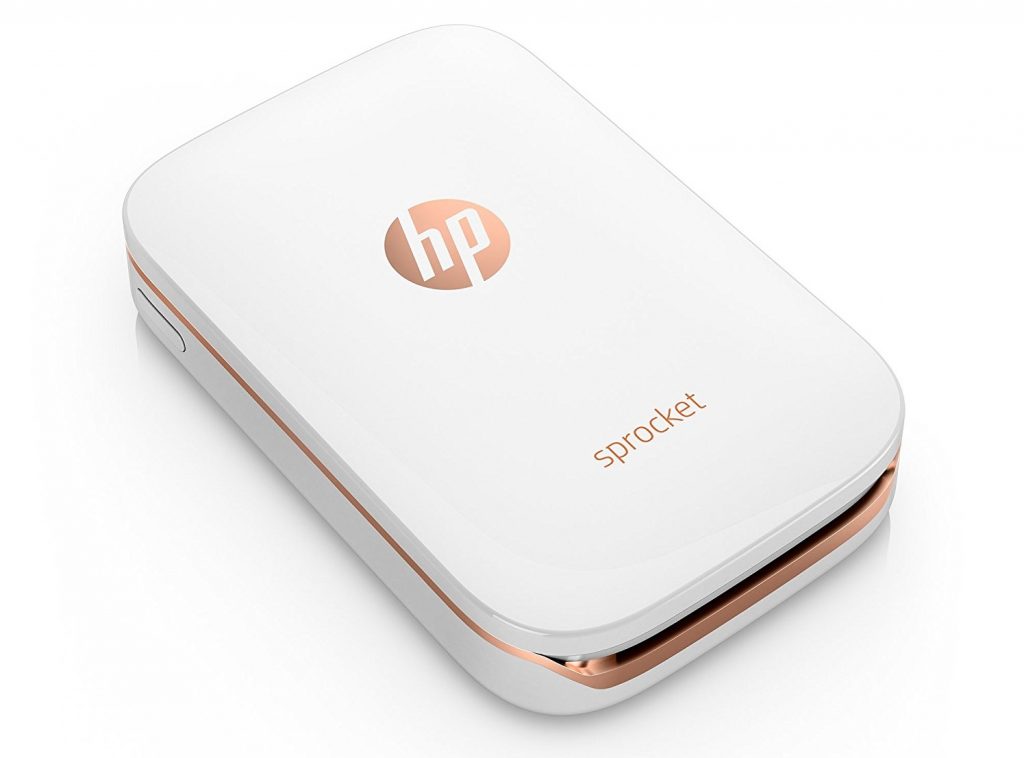 One of the main reasons why we're starting our list with this printer from HP is one awesome feature it integrates: printing photos directly from your social media profiles.
Relying on your phone's Bluetooth connectivity, it's great for holidays and even parties, as anybody can customize their photos, using frames, emojis or other effects.
Besides the printer, you will get the setup card, 10 sheets of HP ZINK Sticky-Backed photo paper, as well as an additional microUSB cable for charging.
Even though it doesn't matter that much, we're really fancying the design and color choices for this printer, as white with a few golden touches looks very good.


Polaroid ZIP Mobile Printer
Looking for a portable photo printer which you can easily carry in your luggage while traveling? The Polaroid ZIP Mobile Printer can be the one for you!
Able to produce 2×3" full-color prints, it's ideal for creating small photos, for various DIY projects or simply keep them in your wallet.
The printer is relying on the same ZINK photo paper as the previous entry in our top, printing smudge-free photos and featuring a peel-off back, so you can transform them into stickers. It takes less than a minute to print a photo and with a single charge, you can print up to 25 of them. Enough for such a compact device, if you ask us.


Kodak Mini Mobile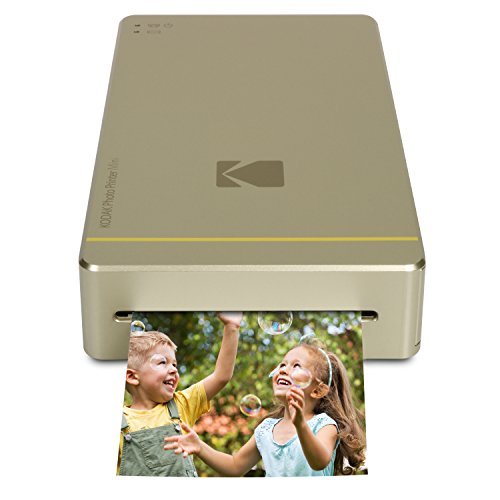 A name like Kodak is a mandatory presence in a top like this. Their Mini Mobile printer is a Wi-Fi-enable device, making use of the Advanced PAtent Dye Sublimation Printing Technology. Sounds a bit complicated? Well, to make it simpler, let's say that it preserves photos, in order to prevent them from wear and tear in time.
Otherwise, the printer is very sleek and classy, featuring a golden finish, while the yellow stripe, in Kodak's characteristic shade, offers a nice touch.
You can download the free companion app, which includes editing features, for a personal touch. However, the printer itself can be a bit difficult to use at first, since it doesn't come with very detailed instructions. Nevertheless, this doesn't matter that much considering how good the photos printed with it look!


Canon Selphy CP1200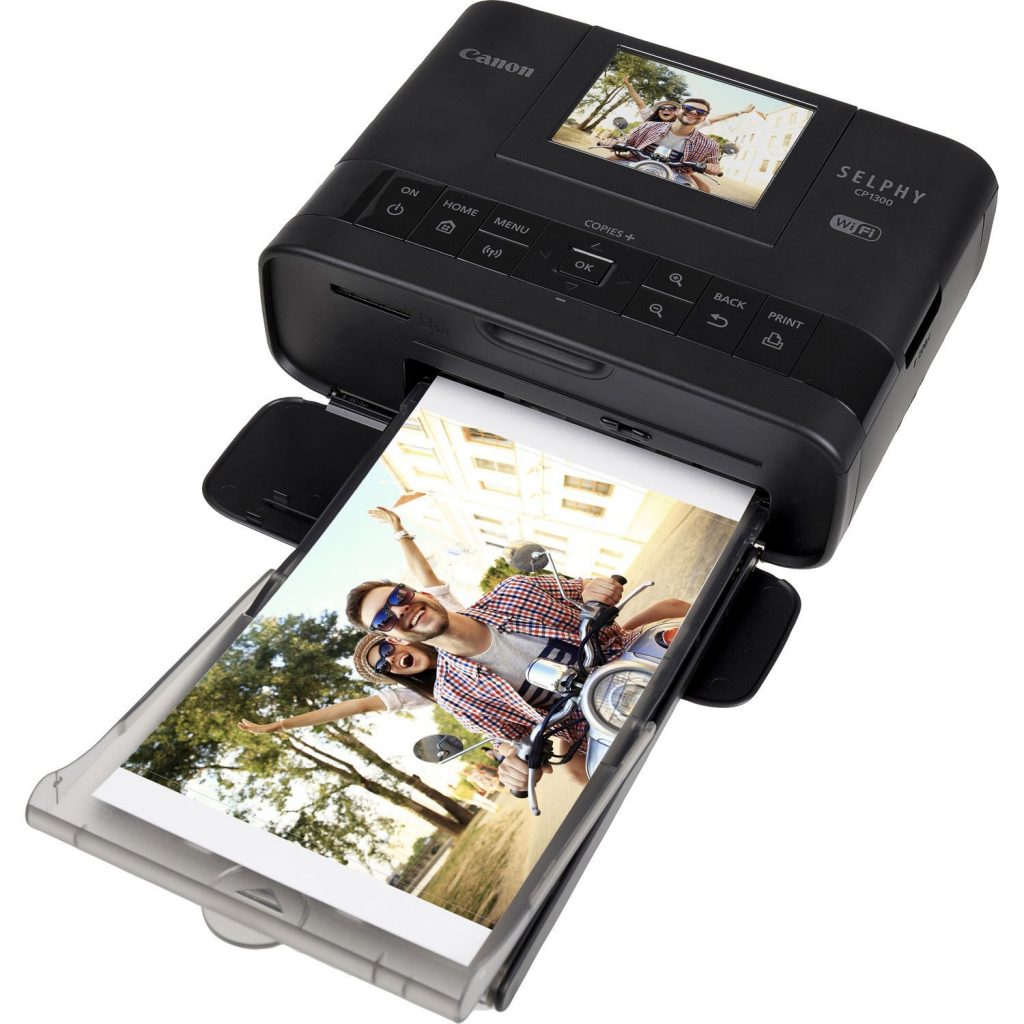 If you want to take things to the next level, then we have a great suggestion for you.The Canon Selphy CP1200 is a really versatile printer, able of making prints of multiple sizes. Whether it's a postcard or credit card-sized prints, this printer has you covered. But this is not all…
Using the dedicated Wi-Fi button, you can print directly from your phone or tablet, as well as from social media apps, like Facebook or Instagram, through the Canon Selphy app. Oh, and there's also a slot for memory cards, as well as a USB port, so you can print directly from a flash drive.
Besides the printer, you will receive a postcard-size paper cassette, Canon Color Ink Paper, so you can create four by six-inch photos, as well as two ultra-gentle cleaning cloths. Sounds like a pretty sweet deal, don't you think?


Pickit M2 Portable Photo Printer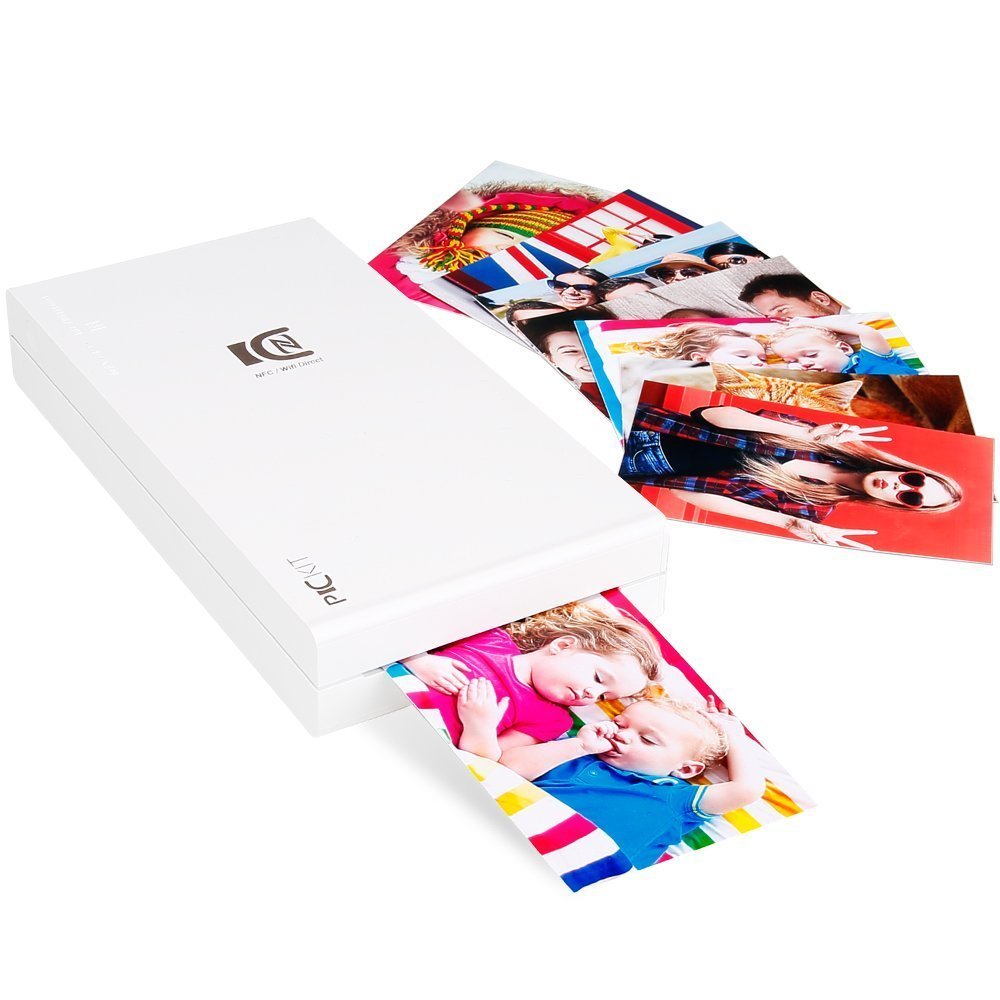 The name doesn't ring a bell? Well, after seeing what this portable photo printer can actually do, you will surely appreciate this brand.
This little device is ridiculously light and compact, but it's able to print directly from your smartphone or tablet, through NFC or Wi-Fi. Everything you need to do is download the Pickit app and get started.
We introduced it in our top thanks to the amazing quality of the photos it prints. This happens because it uses the dye sublimation technology, which adds four layers of real ink in order to achieve an impressive depth of color and contrast, plus an additional laminating layer to prevent smudges.
Technically speaking, the photos are waterproof and fingerprint-proof, but they also feature a sticky back, so you can put them pretty much anywhere you want.


Fujifilm Instax SHARE SP-2 Smartphone Printer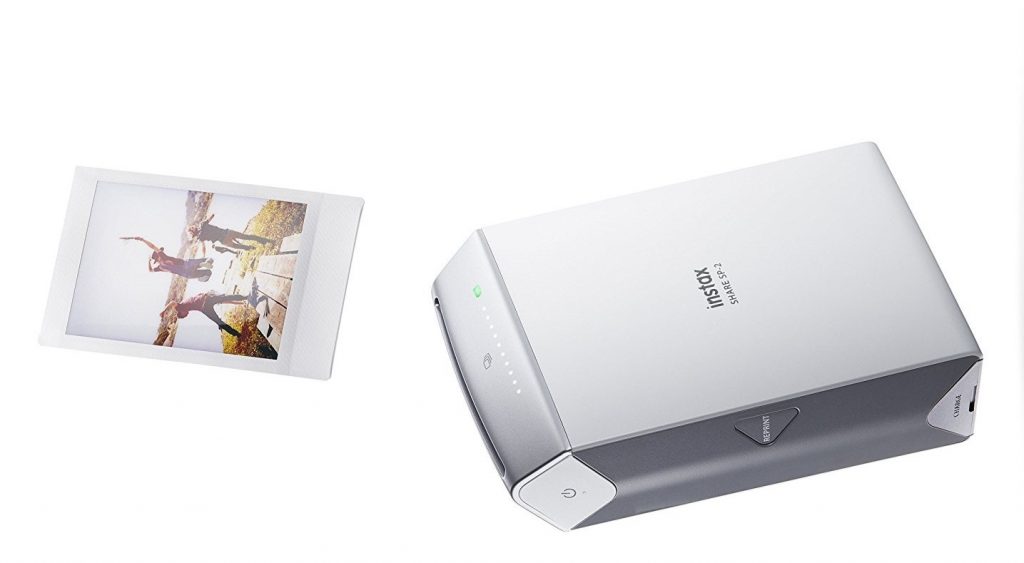 One of our favorite mobile printers, in terms of design, is the Fujifilm Instax SHARE SP2. Seriously, just check it out! It's completely different from all the classic models we've presented until now.
Offering high-speed printing, at around 10 seconds per prints – which is an amazing time, since most models need one minute to print a photo – and you can get about 100 prints per charge.
When it comes to uploading photos and printing them, you can use the dedicated Share app and get them from your social media account and also edit them a bit, by applying some of the built-in design templates and filters.
To get a bit into technical details, you can get incredibly crisp and clear images, of up to 320dpi, which is something you don't see at many printers of this type.


Kodak PD-450W Photo Printer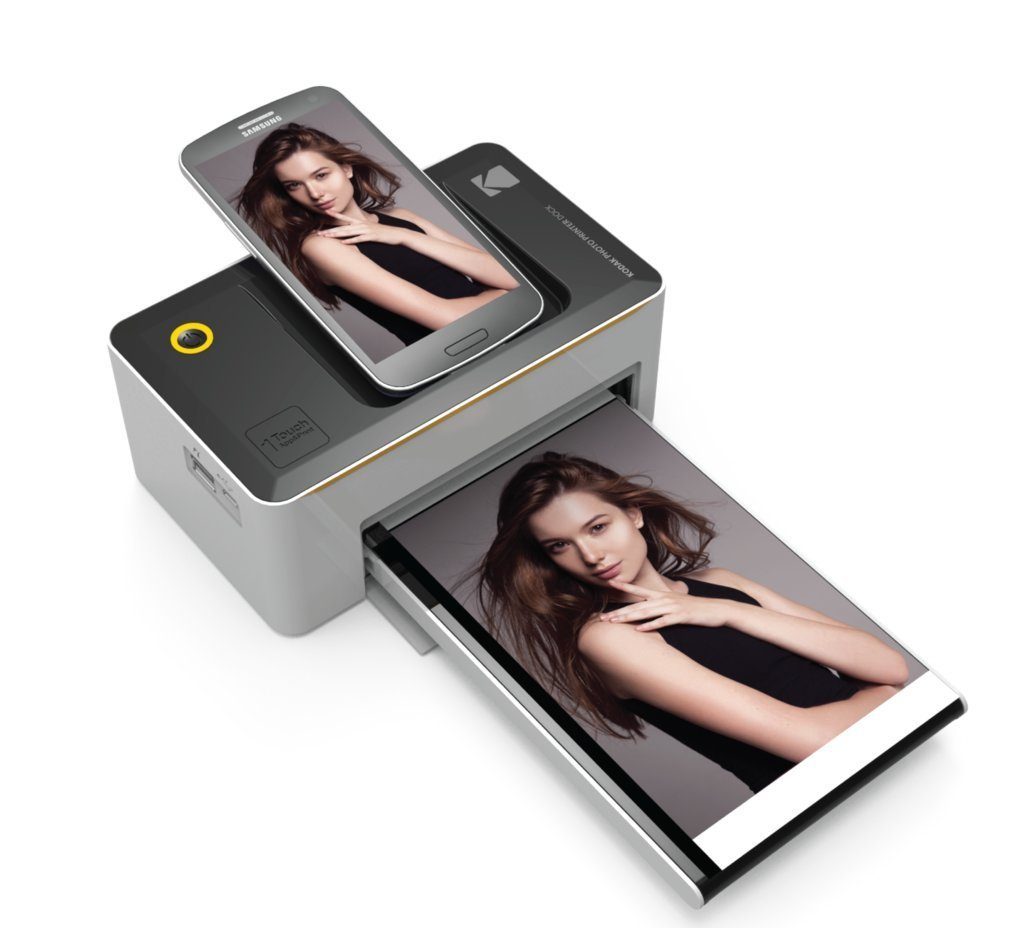 Last but not least, we have a very interesting portable photo printer, coming from the folks over at Kodak. What, they're a reputed name in this industry, this should come as a surprise!
Their PD-450W printer relies on a dock system for ease and convenience. If you have an Android handset, everything you need to do it place it on the 5-pin dock, while Apple owners can connect the phone using a lightning cable. Then, just press the One Touch button and wait for your photo to be printed.
Nothing special until now? Well, you should also know that it can print directly from your camera, thanks to the PictBridge technology, while the Kodak Photo Printer App allows you to edit your photos on the phone, prior to printing, using some of the preloader templates and filters.


And this is where our lists ends! You now have seven awesome portable photo printers to choose from, suitable for all budgets and…luggages. Because yes, some of them take more place, while some are really compact.
Which one of these would you choose and why? Let us know, by dropping a few lines in the comments section below!