We hope this guide will help you to recover your Snapchat messages!
Snapchat has become one of the top social media apps of the moment, differentiating itself from the others through its disappearing messages features. In most cases, depending on the settings, whether you receive a text message, an image or a video, it will automatically be gone after 10 seconds.
However, there are some situations in which you will actually want to recover Snapchat messages, for various reasons. But if they disappeared, is this actually possible?
You probably guessed the answer until now. Yes, you can actually recover your Snapchat messages, no matter if you're using an iOS or Android-running handset.
Let's find out how it can be done.
There are a few different ways of doing this, so in this guide we're going through all of them, starting with the easiest method.
How to save your Snapchat messages
From the start, we should mention that this feature is actually integrated into Snapchat, so you need to go just through a few simple steps in order to do it, as it follows:
Launch the Snapchat app on your phone and sign in

Swipe right on your screen. This should display the chat list

Look for the Chat button in the upper-left corner and search for a contact to chat with

Type your message and tap Send. Your message will appear in the chat window

Tap on the message you just sent and you should see it turning grey and bold. This means that you're keeping that message and it won't be erased, even if you leave the chat screen. The same thing applies for the messages you will receive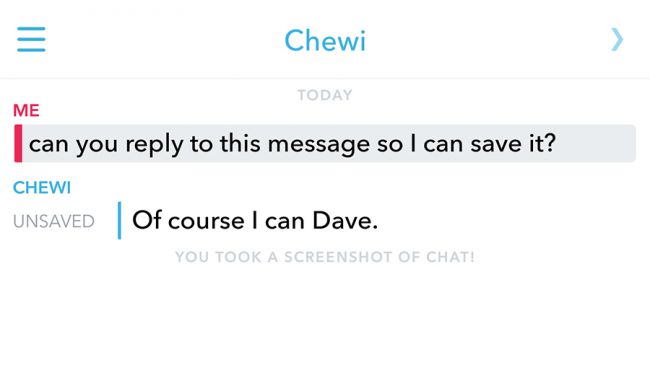 Tap the message again, until it's not grey anymore, and it will vanish in 10 seconds
Of course, this method can be applied just for the messages you will receive after activating it in the chat windows. But what if you want to recover Snapchat messages received, let's say, one week ago?
In this case, things get a bit complicated.
How to recover deleted data from Snapchat
Yes, you need to dig a bit deeper in your phone because, even though they were deleted after 10 seconds, your Snapchat messages are actually stored on your device's memory, using a .nomedia extension.
Specifically, it means that no other app will look at this folder. But you can access it and see those messages, by following these steps:
Look for the messages folder in the file manager, by going to data/data/. Here you should find the com.snapchat.android folder

You will find several folders and subfolders here. Look through them for the files with a

nomedia

extension. Basically, this type of data is invisible for other apps. This is where you can find the Snapchat messages

Select each and every file with this extension

Rename the files, by removing the

nomedia

extension. This should allow you to see the thumbnails and view the messages
Of course, we can't guarantee that this will work, since it can be a bit complicated to find the folder. However, you can at least give it a try and see if you can recover Snapchat messages.
If these two methods look complicated for you or don't bring the desired results, you can also use a third-party tool for this. Specifically, we're talking about data recovery software, which can help you retrieve your deleted messages, available for both iOS and Android.
How to recover Snapchat messages on iOS
For this, we're going to use the Fone Lab recovery tool, which can help you get back your photos and pictures from Snapchat. It's available for both Windows and Mac, for free.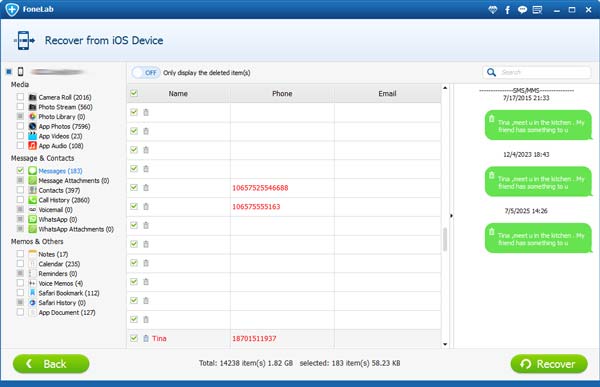 In order to do this, you need to follow these steps:
Install the Fone Lab tool on your PC

Connect your iPhone to the PC, using a USB cable

Wait for a few moments, until the phone enters Recovery from iOS Device model

You should see a Start Scan button on your phone. Press it and begin the scan

Wait until the scanning process is read and all the data from the phone is displayed within the Fone Lab tool

Look for the Messages section on the menu from the left and click on it. The Snapchat messages should also be there

Mark the messages you want to retrieve

Look for the Recover button in the bottom right and click on it

Choose the destination folder for the messages and wait until the recovery process is ready
Recover Snapchat messages on Android
We're going to use a different tool for recovering messages from an Android phone, but with the same functionality. It's made by Fone Lab as well and you can get it, for free, for Windows and Mac.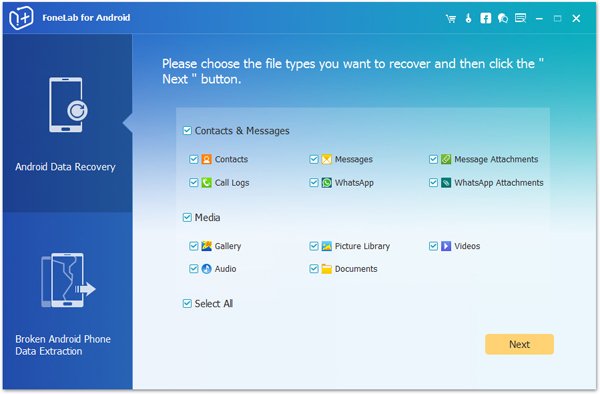 There are the steps you need to follow:
Install the tool on your PC

Enable USB debugging on the phone

Connect the phone to the PC, using a USB cable

Wait for a few moments, until the tool detects the phone

In the Fone Lab tool, go to the Android Data Recovery section

Select Contacts and Messages, then click Next. By doing this, your phone will automatically be rooted

Wait for a few minutes, until the rooting is over

After this is ready, you should see all the messages that have been deleted from your phone, including those from Snapchat

Choose the messages you want to retrieve, then click on Recover

Wait until the messages are recovered
And this is a wrap-up. Hopefully, this guide will come in handy for all of you who want to recover Snapchat messages from their phone.
Using the comments section, please let us know which one of these methods worked for you!
For other phone related issues or troubleshooting apps please make sure to check our blog.