If you're a bit more than the average technology users, you have more than one device that needs charging permanently. And it can be really annoying to carry all your cables around or occupy power outlets all over the house, just to make sure their batteries are full.
Are you feeling me with this one?
Users tend to complain that keeping track of their devices can be really overwhelming sometimes, not to mention that they end up completely forgetting to charge some of them once in a while. But this is where phone charging stations come in, helping you to organize everything neatly and charge every single device you have.
A quick look on Amazon or any other website that sells accessories will reveal a lot of models, with various design and features, so it becomes a bit difficult to pick one that suits your needs. But don't worry, this is why we're here!
Below you can find a short list with some of the best cell phone charging stations you can currently buy. And we made sure to include models for every budget!
UATech Multi Device Organizer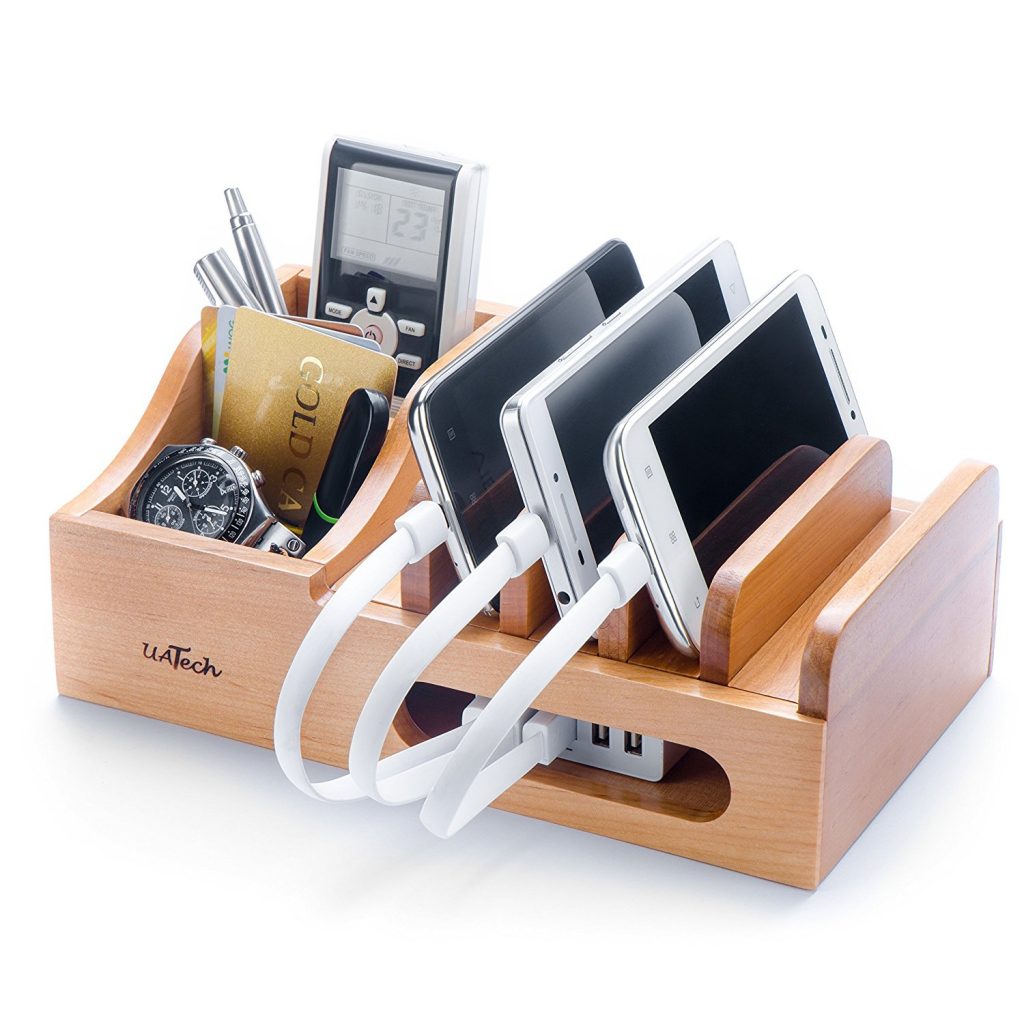 First in our top comes a very stylish station, with slots for five devices, which can be charged simultaneously, in the same place. It has a special space just under the slots, where you can place a USB hub and connect it to a power outlet, so you can power up tablets or smartphones. Alternatively, you can place an external battery as well, but you're limited by the number of ports.
Besides this, it also works as a desk organizer, since it has two compartments where you can keep accessories, like cables, or other desk supplies, like pencils, pens, or scissors.
Obviously, the main aspect that made us include it in this list is the design. Made of 100% solid wood, it's a very sturdy piece and, in time, it will look even better, with a bit of wear and tear on it. And if you have any other wood furniture around, it will complete the look of your room!


SIIG 90W Smart Station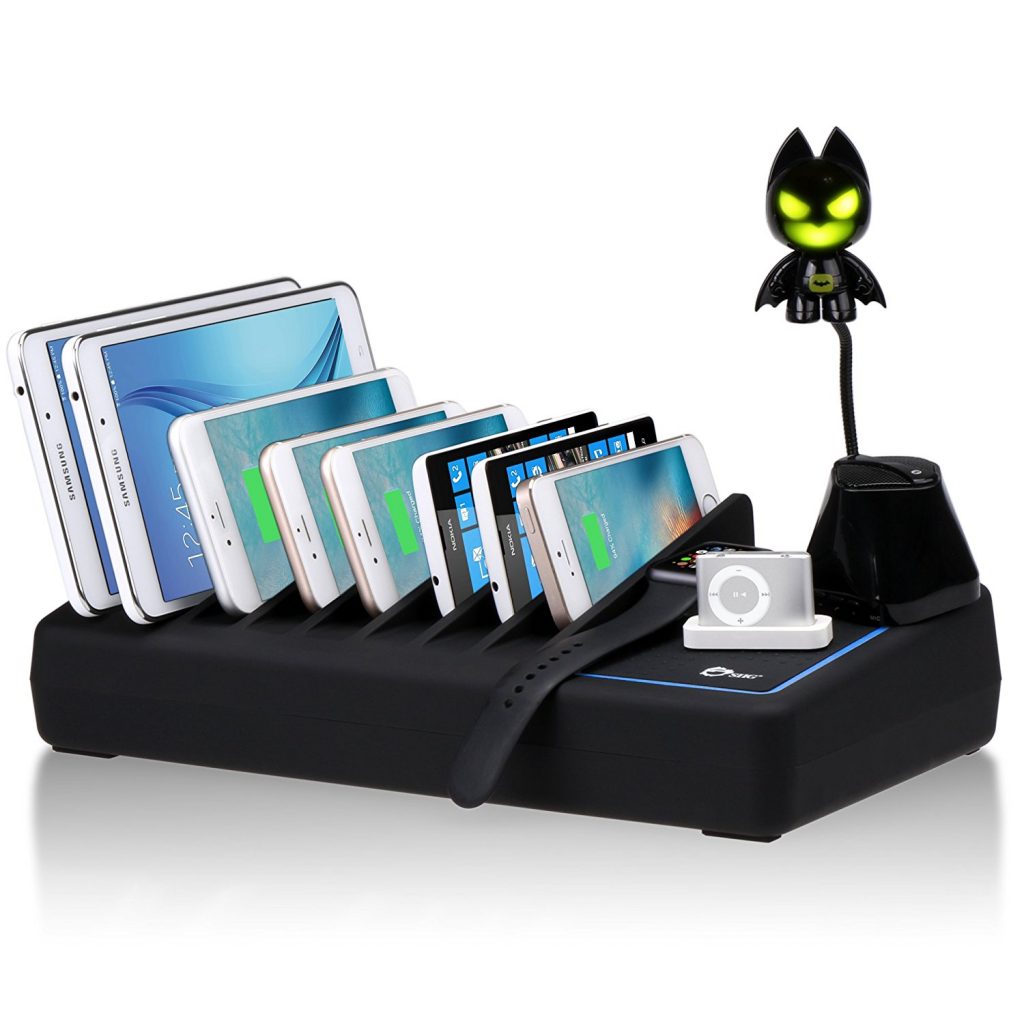 Looking forward to charing more devices at the same time? In this case, you definitely need to check out the SIIG 90W Smart Station, a model, able to deal with 10 USB-devices at the same time. Specifically, it has eight individual open slots, as well as a non-slip padded deck, which can accommodate additional devices or chargers
Unlike the previous entry, this is an actual charging station, which you connect to a power outlet and insert cables in it, depending on how many devices you want to charge. It has an Auto Detection Smart IC feature integrated into each port, for maximum charging efficiency, not to mention that the maximum power output is up to 2.4A for each port.
A thing we really like about this is that, unlike other cell phone charging stations, it comes with a really cool LED ambient light, controlled by a power switch, looking great at night. Oh, and let's not forget about the matte black finish, which looks great in any environment.


FlePow Charging Station Dock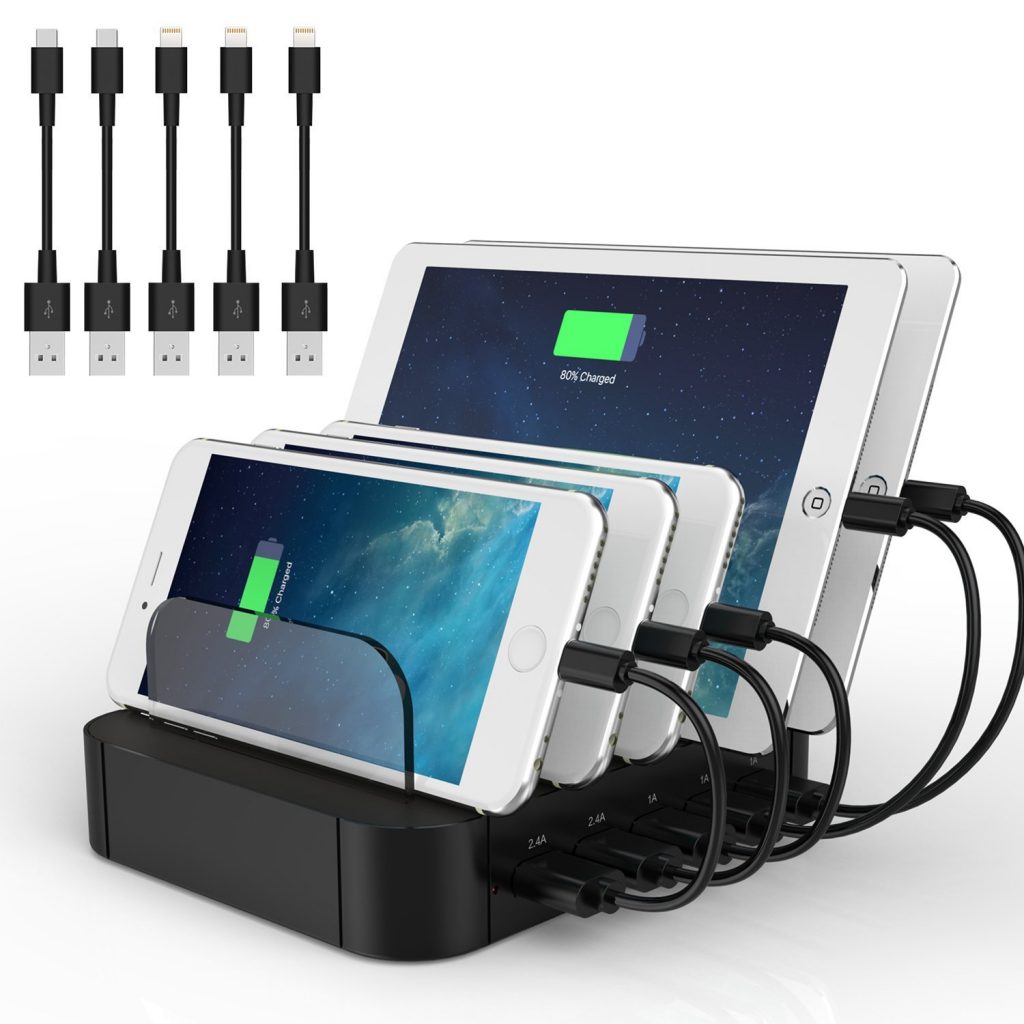 One of the most interesting cell phone charging stations we could find, in terms of both design and functionality, comes from the folks over at FlePow. It can't house as many devices as the previous models on our list since there are just five slots, but wait until you see what it can actually do!
This matte black station is ultra compact and has a – according to the manufacturer – detachable baffle design. Simply put, you can take out any of these baffles, in order to make room for any device. There are five USB ports on the back, two of them being 3.0, as well as a LED status indicator, which shows if the current is flowing through the dock.
Finally, let's mention the 100% premium copper wire, built-in surge protection, over-voltage, over-current and short circuit protection, as well as the ability to identify the devices you're charging and adapt the speed accordingly. You also get a set of cables in the package, so you don't need to worry about stacking those long cables you have.


EasyAcc RAVPower Docking Stand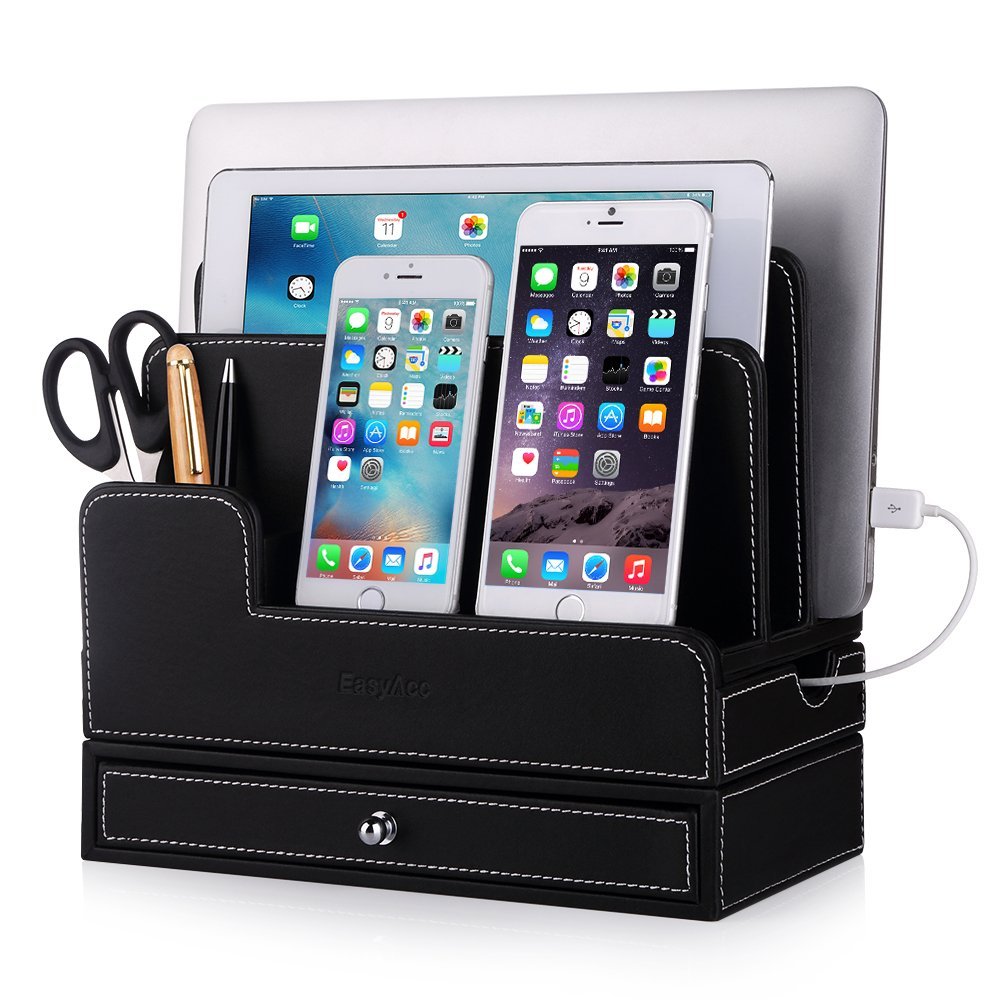 Large enough to store tablets, smartphones and even an ultrabook, the EasyAcc RAVPower Docking Stand can be the perfect desk companion. It's compatible with various USB chargers and has a really neat drawer design, with an independent space where you can store various accessories and avoid messing your desk.
We tested it with two tablets and two smartphones and we weren't disappointed, since everything fits in nicely, even when connected to charging cables.
The base is magnetic, assuring easily assembly and disassembly, as well as a seamless fit. Also, we just can't ignore the contrast the white stitching makes with the black material it's made off.


Pezin & Hulin Bamboo Charging Station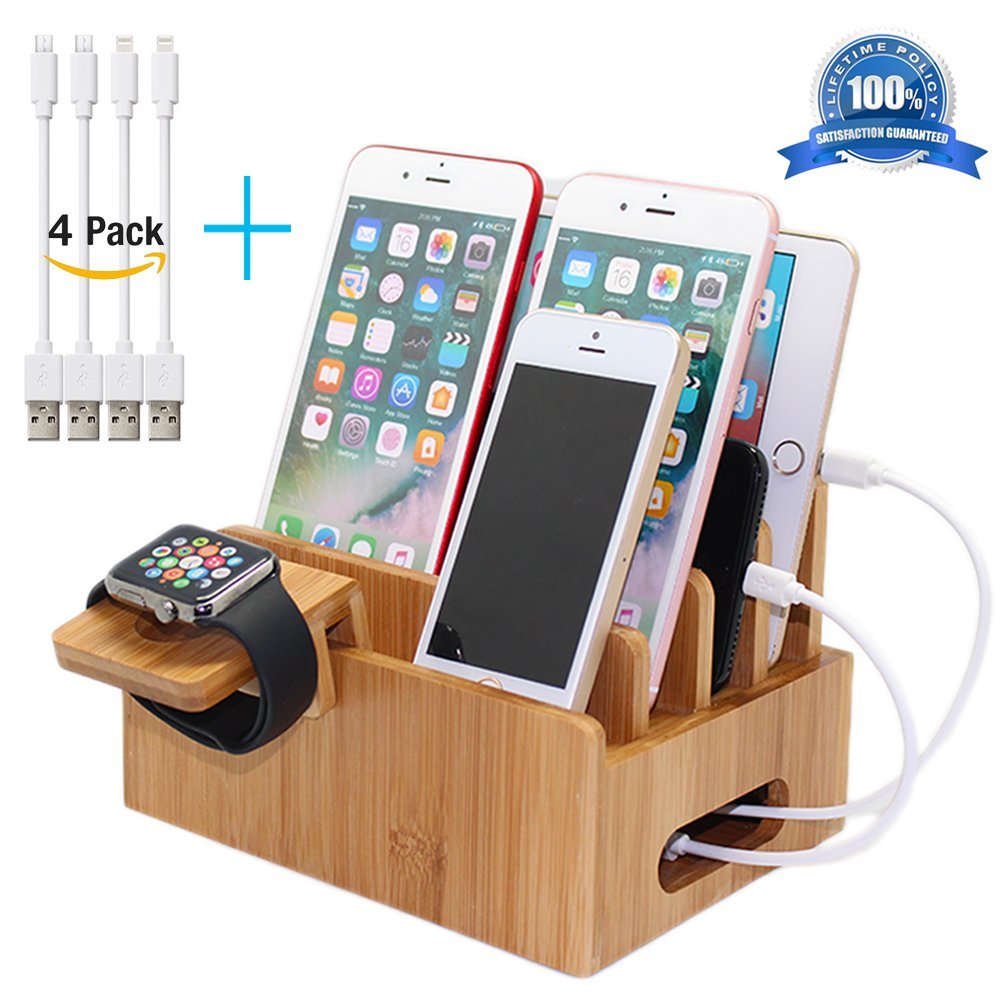 Finally, the last entry in our list of the best cell phone charging stations is the Pezin & Hulin Bamboo model, a very elegant accessory able to host up to five smartphones and a smartwatch. Yes, there's a stand for an Apple Watch or whatever wearable you have as well!
However, if you ask us, there's also room for tablets, so it's up to you how you organize everything. Since it's a pretty large station, it's ideal for corporate meeting rooms, classrooms, or even restaurants, so everybody can put their devices in one place and focus on the conversation. Obviously, it was designed for office use, but the latter was just an idea we like.
As for the actual charging part, there's room for USB hubs with up to 6 ports, so you can charge all the devices placed on the station, at the same time. The magnetic base ensures that the whole thing stays in one place, no matter where you're placing it.
By far our favorite model in this top, due to the bambus design and the smartwatch stand, which is something we haven't seen at many models like this.


And there you have it, folks! Whether you want to organize your office a bit or looking for a present for a tech enthusiast, one of these cell phone charging stations can be an excellent choice.
Let us know, in the comments section, which one of these models is your favorite and why!