iOS is a great operating system, part of an excellent ecosystem, praised by most of its users. However, just like Android and other mobile OS, it's far from being perfect and has a lot of issues. For example, there are situations in which an iPhone won't send pictures, which can become very frustrating, especially if it keeps repeating.
But, like in most cases, there are solutions for this issue. Even though it looks complicated for some of you, there's no need to be worried. Below you will find a complete guide on how to solve this in just a few minutes, as well as an explanation regarding why it's happening.
When you're sending a picture through an iPhone's messages app, there are two ways through which it's send: via iMessage or MMS. The latter is a format that's not very often used, while iMessage works when you have it enabled, as well as the recipient of the picture. Basically, sending pictures through this feature can be done only between iDevices users.
Thus, let's talk about both situations: why an iPhone won't send pictures using iMessage or MMS.
Why aren't my photos not sent via iMessage
If you send a picture as an iMessage, the Send button will be blue. If this doesn't happen, there are two main situations causing this:
Apple's servers have issues. Sometimes, the servers in charge with iMessage go down, leading to serious outages. This situation is technically out of users' controls, so everything you should do is wait until everything is fixed.
Your device has network issues. In this case, there's actually something you can do. Start by checking your Wi-Fi or cellular network, by opening a page in Safari.
If it doesn't load, it means there's a problem with your network. On the other side, if it does load, it's the recipient of the message who has an issue, like having iMessage turned off or network problems.
Why aren't my photos not sent via MMS?
Even though this feature is not as used as it was a few years ago, it's still present out there and totally works. If your iPhone won't send pictures through it, you should know why this is happening.
Most carriers activate MMS right away, but some of them happen to have some restrictions which cause issues. Basically, if a photo is not sent via MMS, it means that your carrier has restricted them.
Ok, now we know what's causing your problem. Obviously, the next step is to see what solutions are available.
What should I do if my iPhone doesn't send pictures?
Below you will find a few things you can try, no matter if you're dealing with this issue when you're trying to send an iMessage or a MMS.
Make sure iMessage/MMS is enabled
Go to Settings > Messages and look for the iMessage switch toggle. It should be enabled on your phone, as well as the recipient's.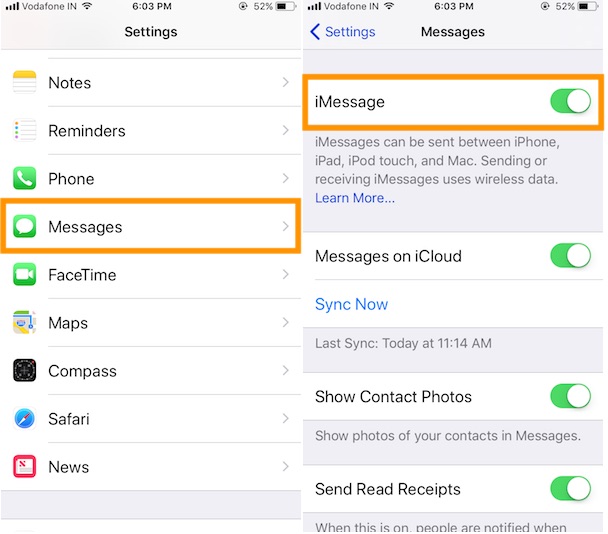 For MMS, go to Settings > Messages and see if the MMS switch toggle is enabled.
These are the most common causes of this problem and if it applies for you as well, you should be able to send pictures in no time, after enabling the features.
Test your Internet connection
iMessages rely on your iPhone's internet connection to be sent, so one of the first thing you should do if you observe a problem with sending them is to actually check if the device is connected to the Internet.
Go to Settings and look for the Wi-Fi menu. If the name of a connection is shown, it means that the phone is connected to Wi-Fi. If nothing appears, it means that the Wi-Fi could be disabled. Tap on the menu and enable it.
Try sending an iMessage using both connections.
If your iPhone won't send pictures while connected to Wi-Fi, go to a place which also has a Wi-Fi connection and try sending one while connected to that network. If it works, it means there's a problem with your initial Wi-Fi connection. If it doesn't, it's probably something else causing this.
Also, see if a regular web page loads while connected to the Internet. If this happens on both connections and only your iMessages don't work, it's definitely something caused by Apple's servers, as mentioned above.
When you're not connected to a Wi-Fi network, you can only send iMessages using your cellular data plan. In order to check your cellular data connection, go to Settings > Cellular and see if the Cellular Data switch is enabled.
If it's enabled and other pages load, it's the same Apple server causing this. If nothing loads, call your carrier's support line, since it's an issue on their end. Your carrier should also explain why you can't send MMS.
Reset your phone's Network Settings
This procedure was also reported to work for several users who can't send pictures using their iPhones. As mentioned above, sending an iMessage or an MMS requires an Internet connection, so any change in the network settings can lead to this problem.
Resetting the network settings will erase all information, like passwords or VPN network information. Before doing this, copy all the passwords, in order to use them later.
Go to Settings > General > Reset > Reset Network Settings. Confirm this action with your passcode, then tap on Reset Network Settings again.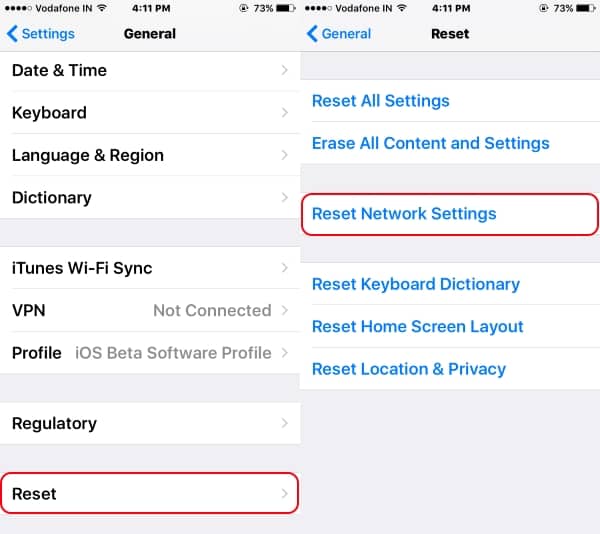 After you're done, enter your passwords again and see if the problem persists.
Restore your phone to Factory Settings
Finally, if nothing else works and your iPhone won't send pictures, you can try restoring it to its factory state, by following these steps :
Open iTunes and connect the phone to it

You should see a pop-up message, asking if you 'Trust This Computer'. Click on Trust.

Select the iPhone appearing on iTunes

Go to Restore Phone in the Summary panel

Click on Restore to verify

Wait until your phone restarts
This last step should definitely fix all your problems and allow you to send pictures from your iPhone again, whether it's through iMessages or MMS.
Wrap-up
If you have a friend who's going through the same problem and says they can't send you pictures, make sure you share this guide. Who knows which of these solutions will come in handy.
Let us know what was causing this on your phone and how you managed to fix it, by dropping a few lines in the comments section below!