Even though the Samsung Galaxy S9 was released just a few weeks ago, last year's flagship, the Galaxy S8, is still a great choice for anybody who wants a new smartphone.
The handset comes with the Fast Charging technology, as well as a fast charger, which allows you to take the battery to 100% quickly, compared to regular chargers. However, sometimes, it may not work properly, as some users reported.
To be more specific, the charger won't function at all. And you kind of want to fix this since you don't want to get back to a traditional charger.
First thing first: don't order a new charger, until you figure out the exact reason why this is happening. It could be either a hardware problem, a software glitch or, eventually, a faulty charger. Let's go through all these situations together and see how you can solve this.
Check your charger
Start with verifying the charger itself, since its the first thing that made you be concerned about this problem. As mentioned above, it's an adaptive Fast Charger, designed specifically for the Samsung Galaxy S8. However, you need to make sure that you're using an OEM charger and not a Chinese knock-off.
These copies usually don't last that much, not to mention that they're not able to charge your phone fast.
This is how an original charger should look like: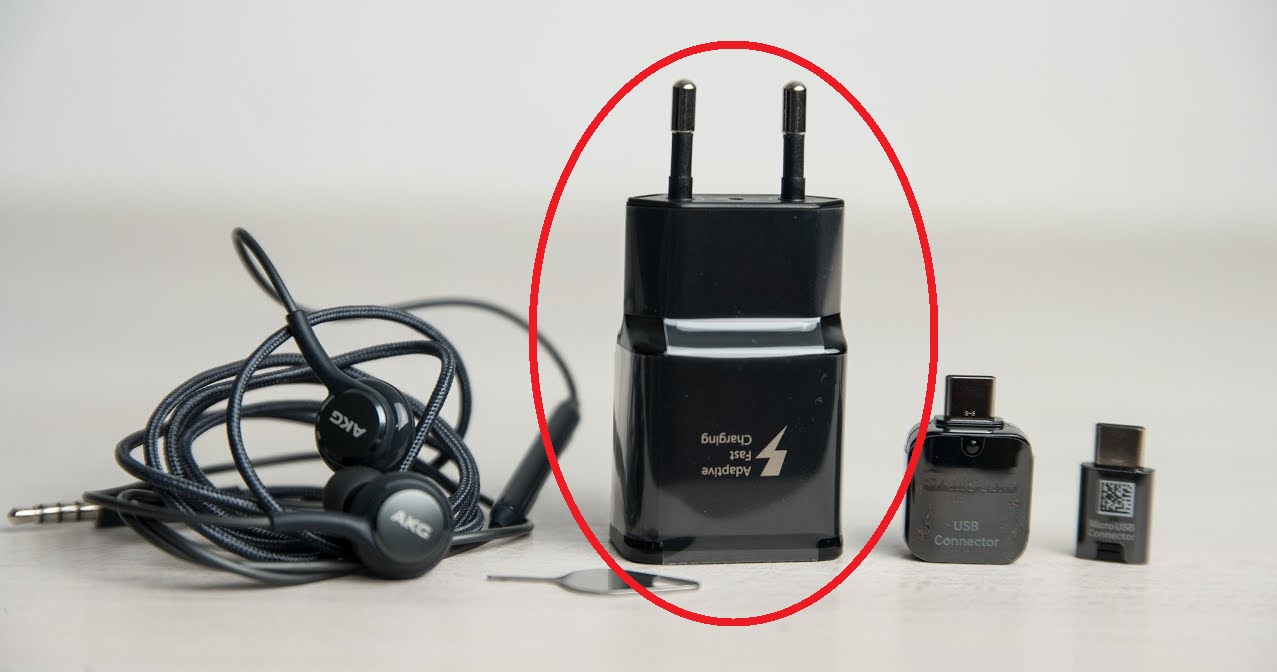 Take a look at the cable as well and make sure it's not broken since this can also affect its functionality.
If both of them look alright, it means that it's not your Samsung Galaxy S8 charger causing all the problems, but something else.
Eventually, try another charger (an original one, that is) and see if you can charge the phone with it. If it works, it's obvious that you need to buy a new Samsung Fast Charger.
Check the charging port
No matter if you have a case on the phone, there are a few parts of it which are not protected. For example, the charging port. A lot of dust and debris can get inside of it, making charging it properly impossible.
Using a small, sharp object, try cleaning the port of any object that can get between the end of the charging cable and the contacts in the port. You can also use some rubbing alcohol to get everything out from the port.
After cleaning the port, try charging the phone and see if it works.
Check the phone for a glitch or an eventual system crash
If it's not your Samsung Galaxy S8 charger causing the problems, it must be something caused by firmware crash. Therefore, if the phone is not charging, turn it off, plug it in, then press and hold the Power Button and Volume Down key for 7 seconds and see if it boots and charges regularly.
This method should work for most phones that don't charge due to a software problem. However, if it doesn't for yours, there's nothing you can do about it but return it or eventually take it to a service and see if it can be fixed.
Check for any corrupted apps causing this issue
It's well known that some apps can cause some serious problems to a smartphone, especially if they're downloaded from other sources than the Play Store. Including affecting the ability to charge properly.
Therefore, the solution is to boot your phone in Safe Mode and see if it's indeed an app stopping your Samsung Galaxy S8 charger from working. To do this, you need to follow these steps:
Turn off the phone

Press and hold the Power Button until you get past the screen showing the phone's model

When you see the Samsung logo, release the Power Button

Immediately after this, press and hold the Volume Down key

Continue holding the Volume Down key until the phone finishes restarting

You should see Safe Mode written in the bottom left corner of the screen. After this, release the Volume Down key
After entering Safe Mode, plug in your phone to a power source and see if it charges. If it does, it's obvious that a faulty app was causing the problems with your charger. Find it and uninstall it, then see if the phone is misbehaving again when you're trying to charge it.
Reset the phone
If you don't have any luck with booting the phone in Safe Mode and finding the app that's causing the problem, there's still one thing you can try: a hard reset.
This will eventually delete all the data on your phone, bringing it to its original factory status. In order to do it, you must remove your Google account first, then perform the actual hard reset process.
Go to Settings > Cloud and accounts > Accounts

Tap on Google

Tap on the email address you're currently using on the phone if you have multiple accounts. This step needs to be repeated for each account

Tap on the three-dotted icon in the corner

Tap on Remove Account

Confirm the removal
After this, it's time to go through the steps which will reset the phone to Factory Settings :
Turn off the phone

Press and hold the Volume Up key and the Home key, at the same time, then press and hold the Power key

Wait until you see the Android logo and release all buttons. You will see the "Installing system update" button for about 30-60 seconds, followed by the Android system recovery menu options

Using the volume rocker, highlight the Wipe data/Factory reset button

Confirm your selection using the Power button

Highlight the Yes – delete all user data options using the volume keys

Confirm your selection using the Power button

After the reset is completed, select the Reboot system now option

Press the Power Button to restart the phone
If you're still not able to use your Samsung Galaxy S8 charger after this, you can return your phone, if it's still covered by warranty, or, eventually, return it and get a new replacement unit.
Let us know which one these solutions worked for you, by dropping a few lines in the comments section below!