Ever since virtual reality started becoming accessible to the masses, investors saw the potential for a new business: virtual reality arcades. But considering the affordable prices of some headsets, you might wonder how such places can produce profit. After all, anybody can try VR in the comfort of their homes….
Think for the moment: a top-notch VR headset, like the Oculus Rift or HTC Vive, costs way more than a regular consumer is willing to pay. But an arcade wants just a small fee in order to let you use theirs. Assuming that this trend lasts and the content you experience cannot be experienced at home, is it worth to you? We'd say yes!
One of the places where you can do this is located near the Empire State Building and has a big neon banner above the entrance, reading "VR World NYC". I was lucky enough to visit it, so today I'll tell you a bit about why it's totally worth checking out.
Over 50 VR experiences in one place and no waiting times? Yes, please!
This is one of the first things you'll find out about the New York VR arcade, if you're curious enough to ask the kind lady in the front. And she's willing to tell you more about the business, including the date when they started and the prices, a detail which we'll talk about in a few seconds.
The fact that it has a ridiculously big number of experiences makes VR World NYC one of the biggest locations of this type in the world. At every station where you can try one of them, an employee is waiting for you, ready to help set up and make a short introduction of the game.
Before visiting the place, I went through a couple of VR World NYC reviews myself, since I was very curious about their method of dealing with wait times. It's a thing I have since I don't want to waste any time when visiting a location I've very curious about.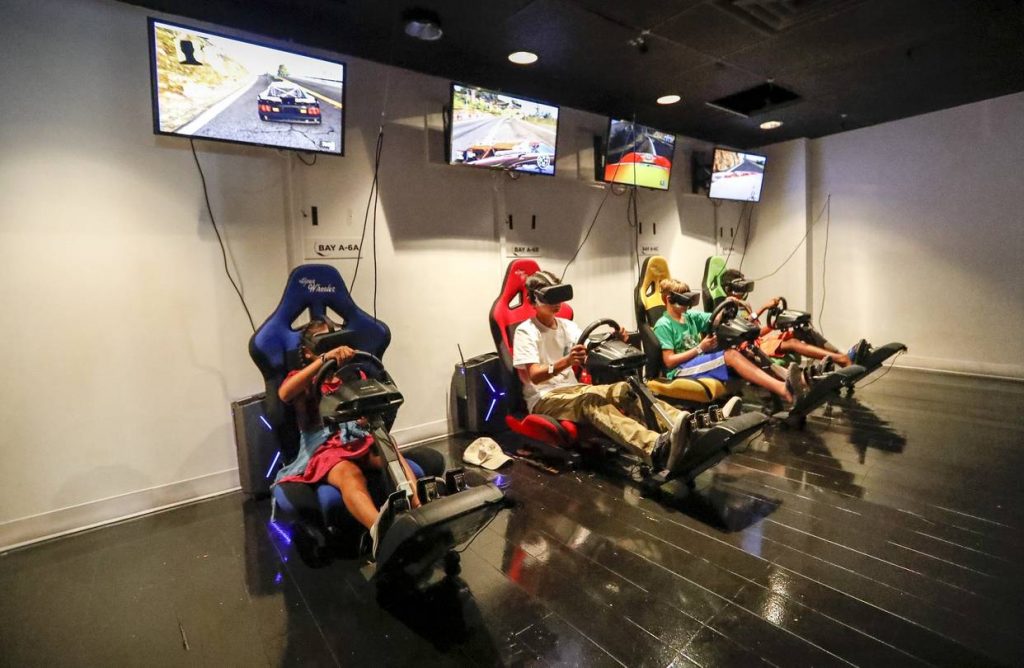 A special registry system allows you to sign in and get 10 minutes to play each game. I know, it doesn't sound that much, but time in virtual reality passes slower than in the real world if you ask me.
Another thing I really liked is that you get a liner to put between your face and the VR equipment, something I haven't seen in many of the arcades I've visited until now. Because I did see quite a few of them and you don't need to be jealous because of this.
Ok, so we can agree that the place is cool and modern, but I guess you want to know if it's accessible, right?
What are the prices for VR World NYC tickets?
Initially, I was afraid that I will splash the cash on this, just for the sake of playing some virtual reality games and make a review of the location. Surprisingly, it costed less than I expected.
For the moment, there are two packages available: $39.99, for two hours, or $59.99. The latter is actually an all-day pass with re-entry, which is a great value, considering the virtual reality titles you get access to. Honestly, I don't know a cheaper and better way to introduce someone fo VR than in my boring home, not to mention that I also managed to get some experiences I normally wouldn't.
What games can I play at VR World NYC?
Speaking about the titles available at VR World NYC, they are organized on three different floors, as it follows:
1st floor: Fruit Ninja (a must, especially if you're a fan), Plank Experience, Flying Simulator, Racing Simulator, Dear Angelica, I Expect to Die, Play Things, and Lucky's Tale.
You can also find a bar, if you get hungry or thirsty, as well as a seating area. Toilets can also be found here, especially if you're one of those users who suffers from nausea caused by some experiences.
2nd floor: This is the place for 360 movies and documentaries, so if you came for something a bit more extreme, take a few steps up.
3rd floor: Raw Data, Brookhaven Experiment, Serious Sam (Manly tears were shed when I saw this), Thumper, Tilt Brush, Rick & Morty, Job Simulator, Space Pirate Trainer, The Climb, Ogre Archery.
What are the best games at VR World NYC?
Even though I really wanted, I couldn't play all games. There were like…way too many! Still, I got the chance to try some awesome experiences and I'll try to present them here, so you can make an idea about how cool this place is, before deciding to visit it.
Fruit Ninja VR
The original slicing game is now available in VR and you can totally try it at the arcade. If you ask me, it's more than a game…it's actually a workout! Like really now, waving a sword for 10 minutes, in order to cut fruits can be really demanding!
Serious Sam VR: The Last Hope
Maybe it's because this is one of my favorite series, but Serious Sam is VR is absolutely ridiculous! In a good way, that is! Imagine shooting all kinds of creatures with awesome guns, in a completely immersive environment, on 5 different planets. How cool is that?
Space Pirate Trainer
What made me include this game on the list is the atmosphere it has. Technically, it's a shooter, but it can get really addictive, especially if you're that kind of person who is always after highscores! Check out the gameplay and you'll see what I'm talking about:
Of course, these were just a few of my personal favorites and it was very difficult to decide upon them. Hey, I tried almost 35 games over the few hours I spent at the arcade!
Before visiting, make sure you check out what other visitors have to say, by checking the location's TripAdvisor profile.
Wrap-up
Well, what do you think? Is VR World NYC worth 60 bucks? For me, it was totally a great investment.
If anybody of you was lucky enough to visit the arcade, do tell us about your experience, by dropping a few lines in the comments section below!