No matter how big it is, storage space will always be a problem on mobile devices. For example, if you're that kind of person who likes to watch movies on a smartphone, you might end up with a low storage space, after uploading a few titles. But this is where an H.264 converter comes in, helping you transform movie files in a special format which occupies way less memory!
Here you can find a complete, step by step guide on how to convert H.264 file, as well as some converting programs recommendations, which will definitely make the whole process easier. And you surely be thankful for this, after seeing how much extra storage you'll end up with.
Let's get to the point!
What is the H.264 format?
Technically speaking, H.264 is known as MPEG-4 Part 10 – Advanced Video Coding (MPEG-4 AVC). In most cases, it's used for recording, compression, and distribution of video content, being the successor of the already popular MPEG-2 and MPEG-4 formats. But you don't need to remember all these.
Nowadays, it's a commonly encountered video codec, for both web and mobile, being supported by the majority of browsers, no matter the device. However, its main advantage is that it can deliver the same quality as its predecessors, MPEG-2 and MPEG-4, in a smaller size.
Basically, videos in this format look very good and take less space. Simple as that.
How can I convert H.264 files?
Obviously, you need a tool for this. Also obviously, there are several available online, but hey, you must decide upon one. After investigating and testing a bit, we've settled up with Wondershare Video Converter Ultimate.
It's an easy to use the tool, supporting various files, like avi, mkv, mov, mp4, and more. Pretty much anything you can think of, in other terms. Bonus points for the very easy to use interface, which is one of the main aspects we consider when recommending tools.
The converter includes other features as well, like the ability to edit videos, burn them to DVD or even download them from video sharing sites.
Wondershare Video Converter Ultimate is available for Windows for free.
How to use an H.264 converter?
As mentioned above, the user interface of our recommended tool is pretty intuitive and very easy to use, so you shouldn't have any issues with navigating through the menus, even though you're not an advanced user.
After installing it, these are the steps you need to follow in order to convert H.264 files to your desired format:
Import the files you want to convert
Simply go to the Convert tab, then pick the Add files option. Add any video file you want to convert to H.264 here.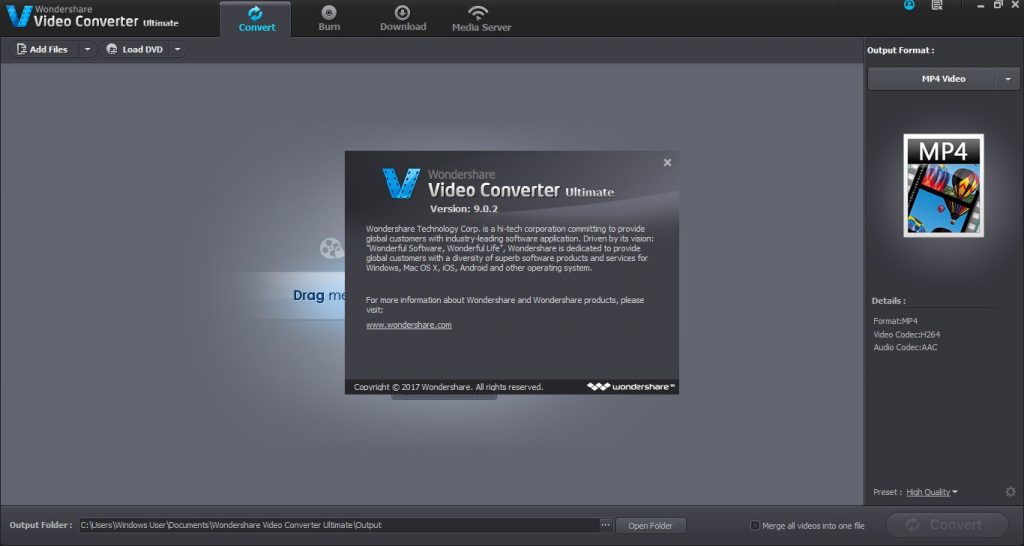 Select your desired output format
We're talking about a H.264 converter here, so it's obvious that this will be your format of choice. To pick this, click on the Output Format dropdown menu and you should find it there. Other formats are available as well, in case you want to convert for other devices.
At the bottom, you will see the path for your converted files. Adjust this one as well, according to your personal preferences.
Start the conversion
After making all the settings, click on the blue Convert button on the bottom-right side. The duration depends on the total number of added files and their size.
You will find your files in the selected Output Format.
P.S.: The tool also offers some nice editing tools, including video cropping, splitting and merging videos, or adding some additional effects.
Is there an H.264 converter available online?
For those of you who – for various reasons – don't want or can't to install software to their PCs, there is variant to convert H.264 files.
Specifically, you can do it online, by using KeepVid's tool. I've used this myself a couple of times and it worked very well.
And you're all done! You have successfully managed to convert your files to the H.264 format. Now you can store several video files on your smartphone and enjoy movies on the go whenever you want.
Have you tried this tool? Let us know how it went. Also, if you know similar tools, able to deliver good results, do tell us about them as well, by dropping a few lines in the comments section!